Xiamen, China - October 30, 2017 - Yealink, the global leading unified communication (UC) terminal solution provider, and 2N, a leading company engaged in the development and manufacture of products in IP Intercoms and Access Control solution, today jointly announced that Yealink T5 Smart Media Phones (T58V,T58A,T56A) have completed interoperability with 2N's IP intercom system.

2N's intercoms, or SIP end points, are more than a point to point audio communicator; in reality, they can be used in many varying applications including the access control for offices and commercial buildings, residential segments, control of production lines in industrial setting, and as a first line of security for schools. After the interoperability, Yealink's smart media phones can be integrated and utilized as door phones in 2N's IP intercom system, providing excellent features and great productivity. And 2N's IP intercom users can choose Yealink phones as the answering unit.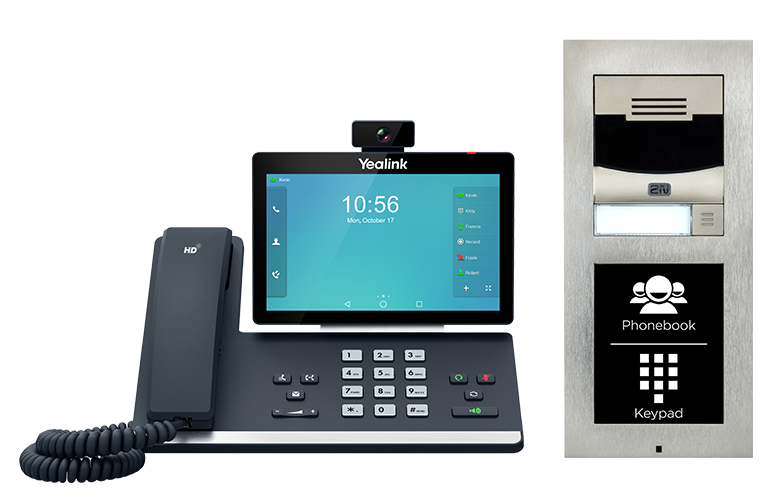 Yealink T58V and 2N® Helios IP Verso
"2N and Yealink bring together the opportunity for business of all sizes enabling HD audio and video communication with visitors. Common solution enables you to see image from intercoms camera on your media phone before you pick up the phone ," said Tomas Vystavel, Head of Product Marketing for 2N. "From a vertical standpoint we have together with Yealink solutions focused on schools, governments, commercial enterprises, SMB or residential segment." he added.

"To establish cooperation with 2N, Yealink is promised to broaden its market and reach even more users and 2N's customers can also benefit easy communication provided by Yealink smart media phones." said Stone Lu, Yealink Vice President. "Yealink expects to maintain and deepen cooperation with 2N to bring excellent UC experience to our mutual customers."

The most advanced intercom is 2N® Helios IP Verso, the winner of the RED DOT Award for Design, see more information at https://www.2n.cz/en_GB/products/intercoms. Yealink Smart Media Phones are all-in-one solutions that facilitate streamlined and efficient communications. For more information, please visit Yealink Product Page.

About 2N Telekomunikace
2N is a leading company engaged in the development and manufacture of products in IP Intercoms and Access Control solution. 2N is complying with the most stringent international standards (ISO, TÜV, UL, CE). Company products are compatible with third-party systems (Genetec, Milestone, Cisco, Bosch, Alcatel-Lucent and much more). The headquarter is located in Prague, Czech Republic. Since 2016 is 2N a part of AXIS Group.

About Yealink
Yealink (Stock Code: 300628) is a global leading unified communication (UC) terminal solution provider that primarily offers video conferencing systems and voice communication solutions. Founded in 2001, Yealink leverages its independent research and development and innovation to pursue its core mission: "Easy collaboration, high productivity." The company's high-quality UC terminal solutions enhance the work efficiency and competitive advantages of its customers in over 100 countries. Yealink is the world's second-largest SIP phone provider and is number one in the China market. For more information, please visit: www.yealink.com.
Linkedin | Facebook | Twitter