DD10K
The Yealink DECT dongle DD10K not only enables T41S/T42S to work concurrently with Yealink DECT system as a handset after pairing with Yealink W60B DECT IP base station, but also enables T53/T53W/T54W/T57W/T58A/VP59 to work as a base station, which can be registered with up to 4 compatible Yealink W52H/W56H/W53H handsets.

Supported by a powerful transmission rate of 1152kbps/s, this solution provides you with a quick and reliable DECT connection without wiring or cabling troubles, and gives you the privilege to enjoy wireless communications in minutes. As a complement for Yealink DECT series, attaching DD10K to your desk phone offers you a new solution by combining the desk phone's features with DECT capabilities.

Even more, Yealink DD10K is compliant with the CAT-iq 2.0 standards, and it is easy and safe to deploy, guaranteeing a flexible and optimal user experience.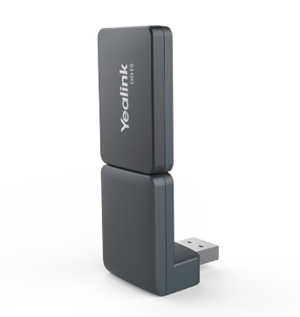 Key Features and Benefits
• Supports Yealink SIP- T41S/T42S with FW 66.82.0.35 or 66.84.0.10, Yealink T5 series.
• Reliable Connection
• Ease-of-use
• Plug and Play
• High Transmission Rate

For more complete product documentation, click Here"

Yealink is tailored for the enterprise one-stop video conferencing solutions
As the world's leading provider of UC terminal solutions, the global TOP2 SIP telephone provider, Yilian company to provide enterprises with one-stop video conferencing solutions, flexible to meet the needs of small and medium enterprises self-built and cloud solutions to help SMEs enjoy high quality , Easy to use, easy to expand the efficient video communication collaboration.
* Filling in the application form gives you the chance to get a free trial;
* After receiving your application for trial, we will have someone to contact you, please keep the mobile phone unblocked;
* Since the number of free trial places is limited, we will follow the "first come, first served" policy and apply for a trial request. Please apply as soon as possible;
* The final interpretation of this activity is owned by Xiamen billion joint networking technology Limited by Share Ltd. If you have any questions, you can send it to sales3@yealink.com for consultation.