SIP-T28P IP Phone
End of Life Announcement for SIP-T28P IP Phone
Dear Customers,

Yealink hereby informs you that SIP-T28P IP Phone has been discontinued since December 31, 2015. After the date, the order for new product would not be accepted.

Yealink does not intend to pursue new feature development on SIP-T28P IP Phone. But Yealink follows industry standard practices regarding the support of its software for discontinued (EOL) products. Consistent with such standards, Yealink will continue to offer support and after-sale service.

The general policy guidelines are:

Yealink will offer up to 5 years of Technical Support from the End of Life.

(1) For the first year from the End of Life, Yealink will offer the full support, including HW/SW Technical Support, Apply Existing SW Bug Fixes, New Non-Critical SW Bug Fixes, New Critical SW Bug Fixes and New Security Fixes.

(2) For the second year till, and including, the fifth year from the End of Life, Yealink will attempt to provide SW bug fixes. In the EOL support phase, an SW upgrade of the product to a newer existing release will also be seen as providing a fix to the SW bug. Providing a fix may not be possible in some cases due to limitation on hardware or software architecture, and Yealink in its sole discretion will determine what fixes, if any, will be provided.

(3) Yealink will not offer any New Features/Enhancements support from the End of Life.

(4) Spares or replacement parts for hardware will be available depending on your local distributors. Please contact your local Yealink distributors for HW Technical Support and HW Repair and Return (subject to inventory availability). The local Yealink distributors will provide you the corresponding HW support in accordance with Yealink Return Materials Authorization (RMA) process.

(5) Since the sixth year from the End of Life, Yealink will not offer any Support.

Although every effort will be made to support End of Life products in accordance with our End of Life Policy, Yealink reserves the right to change its Policy as it deems appropriate. Yealink will announce any changes to the End of Life Policy through the Yealink Website at Yealink EOL Products and we encourage you to visit this site regularly as it contains useful information regarding Yealink's end-of-life program.

Yealink would like to advise that you move your product to the newer product in order to continue and enjoy Yealink's high level service. The recommended superseding solution to the SIP-T28P IP Phone is SIP-T29G, which offers functionally richer technology.

Yealink hopes that the end of sales of SIP-T28P IP Phone will not affect the existing service relationship and service quality. We are consistently dedicated to providing you with other excellent products and services. If you have any questions regarding this discontinuation, please contact your appropriate Yealink sales representative or your local distributors.

Thanks for your continued support for Yealink!


Yealink Network Technology Co.,Ltd.
All right reserved.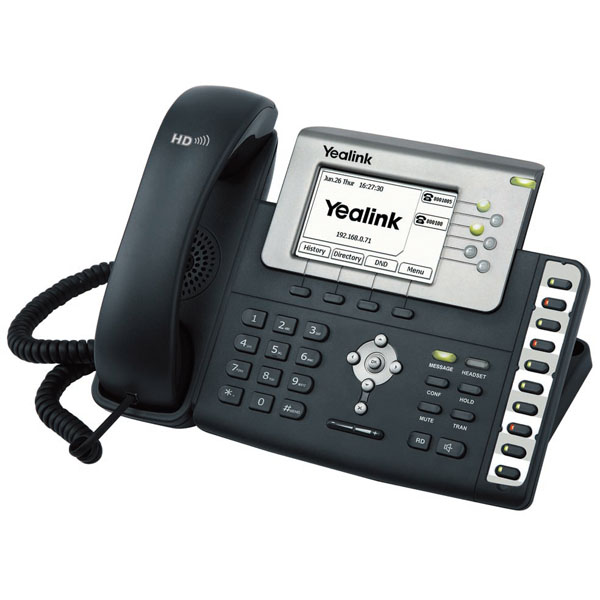 Features

> Yealink HD Voice
> 320x160-pixel graphical LCD
> Two-port 10/100 Ethernet Switch
> PoE support
> Up to 6 SIP accounts
> Headset, EHS support
> Supports expansion modules
> Simple, flexible and secure
provisioning options


Specification

Audio Features
> HD voice: HD handset, HD speaker
> Codecs: G.722, G.711(A/μ), G.723.1, G.729AB,
G.726, iLBC
> DTMF: In-band, Out-of-band(RFC 2833) and SIP
INFO
> Full-duplex hands-free speakerphone with AEC
> VAD, CNG, AEC, PLC, AJB, AGC

Phone Features
> 6 VoIP accounts
> Call hold, mute, DND
> One-touch speed dial, hotline
> Call forward, call waiting, call transfer
> Group listening, SMS
> Redial, call return, auto answer
> Local 3-way conferencing
> Direct IP call without SIP proxy
> Ring tone selection/import/delete
> Set date time manually or automatically
> Dial plan
> XML Browser
> Action URL/URI
> RTCP-XR (RFC3611), VQ-RTCPXR (RFC6035)

Directory
> Loal phonebook up to 1000 entries
> Black list
> XML/LDAP remote phonebook
> Intelligent search method
> Phonebook search/import/export
> Call history: dialed/received/missed/forwarded

IP-PBX Features
> Busy Lamp Field (BLF)
> Bridged Line Apperance(BLA)
> Anonymous call, anonymous call rejection
> Hot-desking, emergency call
> Message Waiting Indicator (MWI)
> Voice mail
> Call park, call pickup
> Intercom, paging
> Music on hold
> Call completion
> Call recording

Display and Indicator
> 320x160-pixel graphical LCD with backlight
> LED for call and message waiting indication
> Dual-color (red or green) illuminated LEDs for
line status information
> Intuitive user interface with icons and soft keys
> National language selection
> Caller ID with name, number

Feature keys
> 48 keys including 16 freely programmable keys
> 8 features keys: message, headset, hold, mute,
tran, redial, conf, hands-free speakerphone
> 4 context-sensitive "soft" keys
> 6 navigation keys
> Volume control keys

Interface
> 2xRJ45 10/100M Ethernet ports
>Power over Ethernet (IEEE 802.3af), class 2
> 1xRJ9 (4P4C) handset port
> 1xRJ9 (4P4C) headset port
> 1XRJ12 (6P6C) EXT port:
Supports up to 6 Expansion Modules for an
attendant console application

Other Physical Features
> External universal AC adapter (optional):
AC 100~240V input and DC 5V/1.2A output
> Power consumption (PSU): 1.3-2.1W
> Power consumption (PoE): 1.8-3.1W
> Dimension(W*D*H*T):
273mm*200mm*158mm*58.5mm
> Operating humidity: 10~95%
> Operating temperature: -10~50°C

Management
> Configuration: browser/phone/auto-provision
> Auto provision via FTP/TFTP/HTTP/HTTPS
for mass deploy
> Auto-provision with PnP
> Zero-sp-touch, TR-069
> Phone lock for personal privacy protection
> Reset to factory, reboot
> Package tracing export, system log

Network and Security
> SIP v1 (RFC2543), v2 (RFC3261)
> Call server redundancy supported
> NAT transverse: STUN mode
> Proxy mode and peer-to-peer SIP link mode
> IP assignment: static/DHCP/PPPoE
> HTTP/HTTPS web server
> Time and date synchronization using SNTP
> UDP/TCP/DNS-SRV(RFC 3263)
> QoS: 802.1p/Q tagging (VLAN), Layer 3 ToS

DSCP
> SRTP for voice
> Transport Layer Security (TLS)
> HTTPS certificate manager
> AES encryption for configuration file
> Digest authentication using MD5/MD5-sess
> OpenVPN, IEEE802.1X
> IPv6

Package Features
> Qty/CTN: 5 PCS
> N.W/CTN: 6.9 KG
> G.W/CTN: 7.6 KG
> Giftbox size: 285mm * 240mm* 110mm
> Carton Meas: 580mm*295mm*250mm



Yealink is tailored for the enterprise one-stop video conferencing solutions
As the world's leading provider of UC terminal solutions, the global TOP2 SIP telephone provider, Yilian company to provide enterprises with one-stop video conferencing solutions, flexible to meet the needs of small and medium enterprises self-built and cloud solutions to help SMEs enjoy high quality , Easy to use, easy to expand the efficient video communication collaboration.
* Filling in the application form gives you the chance to get a free trial;
* After receiving your application for trial, we will have someone to contact you, please keep the mobile phone unblocked;
* Since the number of free trial places is limited, we will follow the "first come, first served" policy and apply for a trial request. Please apply as soon as possible;
* The final interpretation of this activity is owned by Xiamen billion joint networking technology Limited by Share Ltd. If you have any questions, you can send it to sales3@yealink.com for consultation.