Inclusive, Immersive, Intelligent
SmartVision 60
The Intelligent 360° All-in-One

Video Conferencing Camera


for Small-to-medium Microsoft Teams Rooms
A Sleek and Compact Design
Pack up all you need for video conferencing in a single device


Take Your Teams Rooms to A Higher Level of Equity
No Hidden Attendees
With the 360° coverage and center-of-the-table perspective, no one in the room will be hidden from view. The all-new 10K camera delivers stunning images. with much more detail even in every crop. Remote attendees can now get a more inclusive meeting experience even when they are not there.
Introducing the Multi-Stream People Feed feature, which provides individual video feeds of up to four in-room active speakers while showcasing the panoramic view of the room. The feature enables everyone at the conference table to appear front and center on the screen crystal-clear.
The voice and face recognition feature allows remote and in-room participants to connect better by associating names with faces and speeches. Additionally, enjoy automatic speech-to-text transcription with speakers identified by their names.
With two sets of multi-functional microphones, the SmartVision 60, an intelligent 360° all-in-one conferencing camera, effortlessly covers every corner of small-to-medium meeting rooms. It also features intelligent audio capabilities.
Control Meetings Hands-free
Stay connected to remote teams even when you have your hands full. Ask Cortana to join a meeting, send a message, share a file, and more. Embrace the future with seamless Copilot integration, elevating your meetings into effortless and worry-free experiences. Shift your focus towards what truly matters as we take care of the rest.


Integration with Leading PC Manufacturers
Flexible Options for Your PC
Meets Diverse
Deployment Needs
Elevate deployment experience with Yealink's certified* 15m or 30m USB 3.0 cables, ensuring not only extended reach but also unwavering product stability.

*To ensure the stability of the product, please use Yealink-certified cables.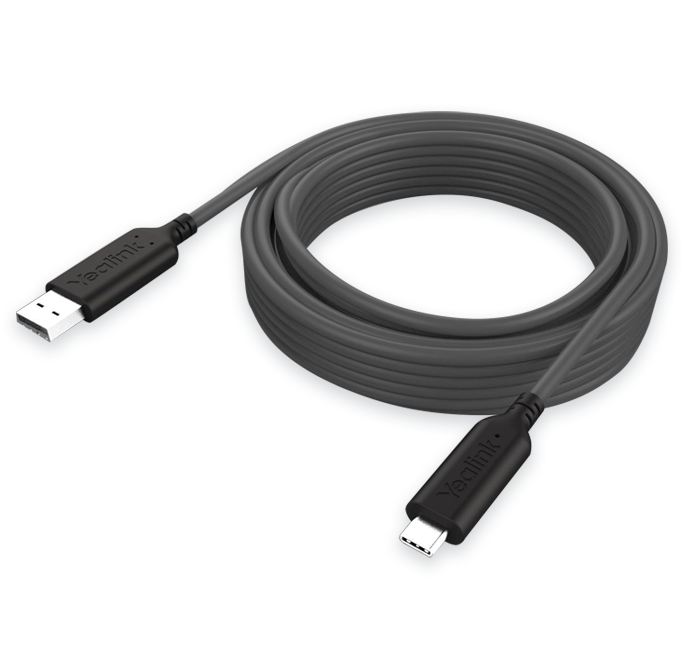 Please fill in the information below, or email us at ucinfo@yealink.com and a Yealink expert for Microsoft solutions will contact you soon.
FAQ
What is Yealink SmartVision 60?
Yealink SmartVision 60 is a 360° all-in-one intelligent camera, it's a new generation of all-in-one audio & video devices that are designed for intelligent conference rooms jointly created by Yealink and Microsoft. SmartVision 60, a 360° all-in-one intelligent camera has a 360° wide field of view with a 360° sound pickup range, which would bring a comprehensive and immersive conference experience.
Does Yealink SmartVision 60 360° all-in-one conference camera have integrated AI capabilities?
Yealink SmartVision 60, a state-of-the-art conference camera, incorporates an impressive range of cutting-edge AI capabilities from Microsoft. Its Multi-Stream People Feed feature presents meeting attendees with their dedicated frame in the gallery, fostering a heightened sense of proximity for remote participants. Cortana, the intelligent voice assistant, effortlessly enables voice meeting control, while the advanced voice transcription function facilitates seamless one-click unmanned meeting minutes mode. With intelligent real-time translation and online translation of subtitles, this conference camera unlocks a new realm of barrier-free communication for multi-party engagements. Additionally, the intelligent participant identification feature ensures a uniquely customized meeting experience. Step into the future of meetings with Yealink SmartVision 60, the ultimate conference camera, empowered by integrated Microsoft AI capabilities.