Yealink Education Solutions
Connecting students, faculty and staff for better learning, interaction and administration


An Ever-changing Education Industry
In the post-epidemic era, situations like segregation policies, geographical restrictions, and time constraints will reshape teaching,
learning, and school administration,making remote collaboration and distant learning continue to be essential.
Empower Collaboration and Communication
Yealink's video conferencing solutions allow academic institutions to link with students and global communities in various scenarios,
unleashing the creativity of virtual education through intuitive video experiences.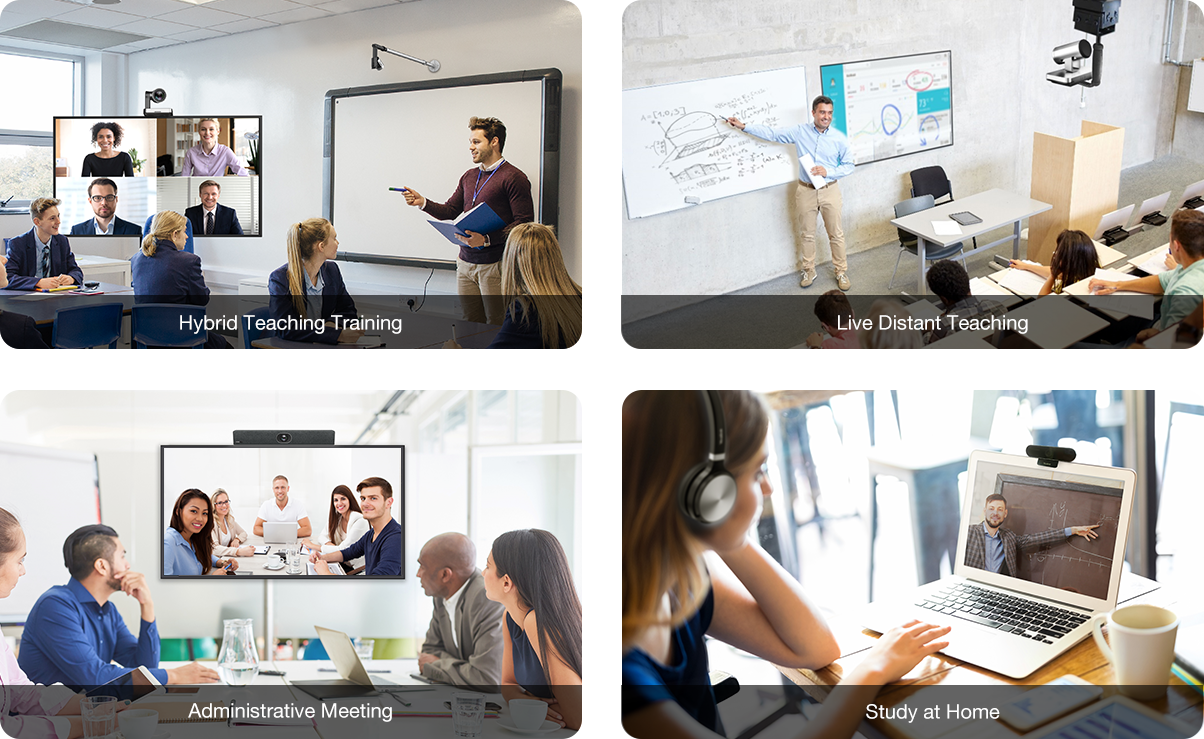 Educational Video Conferencing Scenarios
MVC960+UVC30 for Hybrid Training Rooms
Keep Everyone Engaged
- With multi-camera system and Auto Framing, MVC960 eliminates all blind spots in an ultra-large room and frames everybody in the best view.
- MVC960 also supports Presenter Tracking that makes presenters always in the center of the view. Remote students could experience as good as they are in the classroom.
- The unique content camera, UVC30, captures the whiteboard and displays it on the screen in real-time to grab everyone's attention.
Keep Everything Simple
- Thanks to MCore, one CAT5e cable is all you need for the endpoint connection, data transmission, and power supply, effectively reducing the time and labor costs of deployment.
A20+CTP18 for Remote Teaching Rooms
Unrestricted Teaching Interaction
- With its 133° super wide-angle lens and AI technology, A20 tracks speakers automatically and frames them in a close-up in real-time, allowing teachers to use body language freely to create a vivid classroom experience.

Immersive Learning Experience
- A20's Enhanced AI Noise Cancellation reduces interference from the environment, such as the sound of crying children or keyboard tapping, providing crystal-clear and impactful sound to students.

Effortless IT Involvement
- A20 is an all-in-one design that combines cameras, microphones, and speakers into a single device, which greatly reduces the time and labor costs of IT involvement.
MVC640 for Administrative Meeting Rooms
Smooth Multi-Party Experience
- Empowered with 12x optical zoom and Auto Framing, MVC640 captures the optimal view of everyone, giving all stakeholders captivating visuals.

Productive Conference Communication
- Yealink WPP20, a unique USB presentation pod, provides one-click content-sharing, saving more time for idea collision.
-Working with MSpeech, MVC640 offers intelligent features like voice transcription and real-time translation for more effective communication.

Convenient Multi-End Participation
- With the built-in native Microsoft Teams application, users could join conferences with one touch from PC, mobile or room terminals. Organizers can also simply chat to the Cortana Voice Assistant to arrange meetings and invite participants.
USB Products for Personal Study Rooms
Enhanced Study Engagement
- UVC20 with Smart Light* automatically recognizes and optimizes the image in low light or backlit conditions. Students at home would be perceived as involved in the real class.

- UH38's dual microphone noise cancellation and Acoustic Shield Technology can effectively block out background noise, allowing smooth communication with teachers and peers.

Improved Learning Efficiency
- UH38 grants dual USB/Bluetooth connectivity and seamless PC/mobile device switching, improving processing efficiency.
- Both UH38 and UVC20 are plug-and-play to work with mainstream VC platforms, which lets students more focus on learning instead of equipment operations.
Every Reason to Choose Yealink Education Solutions
Contact Us
Please fill in information below, or email us at ucinfo@yealink.com and a dedicated Yealink expert will contact you soon.