Yealink Finance Solutions
Connecting students, faculty and staff for better learning, interaction and administration
A New Industry Preference: Digital Financial Channels
Financial services are rapidly evolving, necessitating more efficient processes and free-flowing interactions. And digital financial channels
are becoming the preferred choice for modern businesses by means of teleconferencing.
Grow Business and Seize Opportunities
Yealink's video conferencing solutions facilitate convenient communication among employees, customers, and partners
in various scenarios, developing trusted client relationships through intuitive video experiences.
Financial Video Conferencing Scenarios
UVC20+BH76 for Personal Offices
Quality Customer Experience
-UVC20' s full HD premium video plus smart light* feature and BH76' s specially tailored noise-cancellation microphones provide customers with vivid face-to-face communications that improve understanding, build trust, and form better relationships.
Extended Business Opportunities
-UVC20 and BH76 are plug-and-play and easy to use at the office, on the go, and at home, which allows quick response to clients who have urgent needs and seize every business opportunity.
A30+CTP18 for Consultant Meeting Rooms
Life-like Conferencing Experience
-With 4K UHD, 120° wide-angle lens, and the Speaker Tracking feature, Yealink A30 creates a wonderful communication process that improves customer experiences.
Stringent In-Meeting Data Protection
-click HD content sharing offers quick and clear case introduction while strong encryption meets the heightened privacy protection requirements.
Effortless IT Involvement
-A30 is an all-in-one design that combines cameras, microphones, and speakers into a single device, which greatly reduces the time and labor costs of IT involvement.
MVC860 for Plenary Training Rooms
Smooth Multi-Party Experience
-MVC860 with 4K dual-eye camera supports premium clarity, facilitating large-scale & multi-point meetings with a perfect display of complex business data and model sharing.
Productive Conference Collaboration
-The MTouch II touch panel and WPP20 offer rich collaboration features like real-time annotation and quick content sharing, which makes it faster to do business and improves employee engagement.
Convenient Inter-Branch Communication
-From internal training sessions to onboarding modules, join from any device with one click to cut down on business travel and improve cost containment.

Every Reason to Choose Yealink Finance Solutions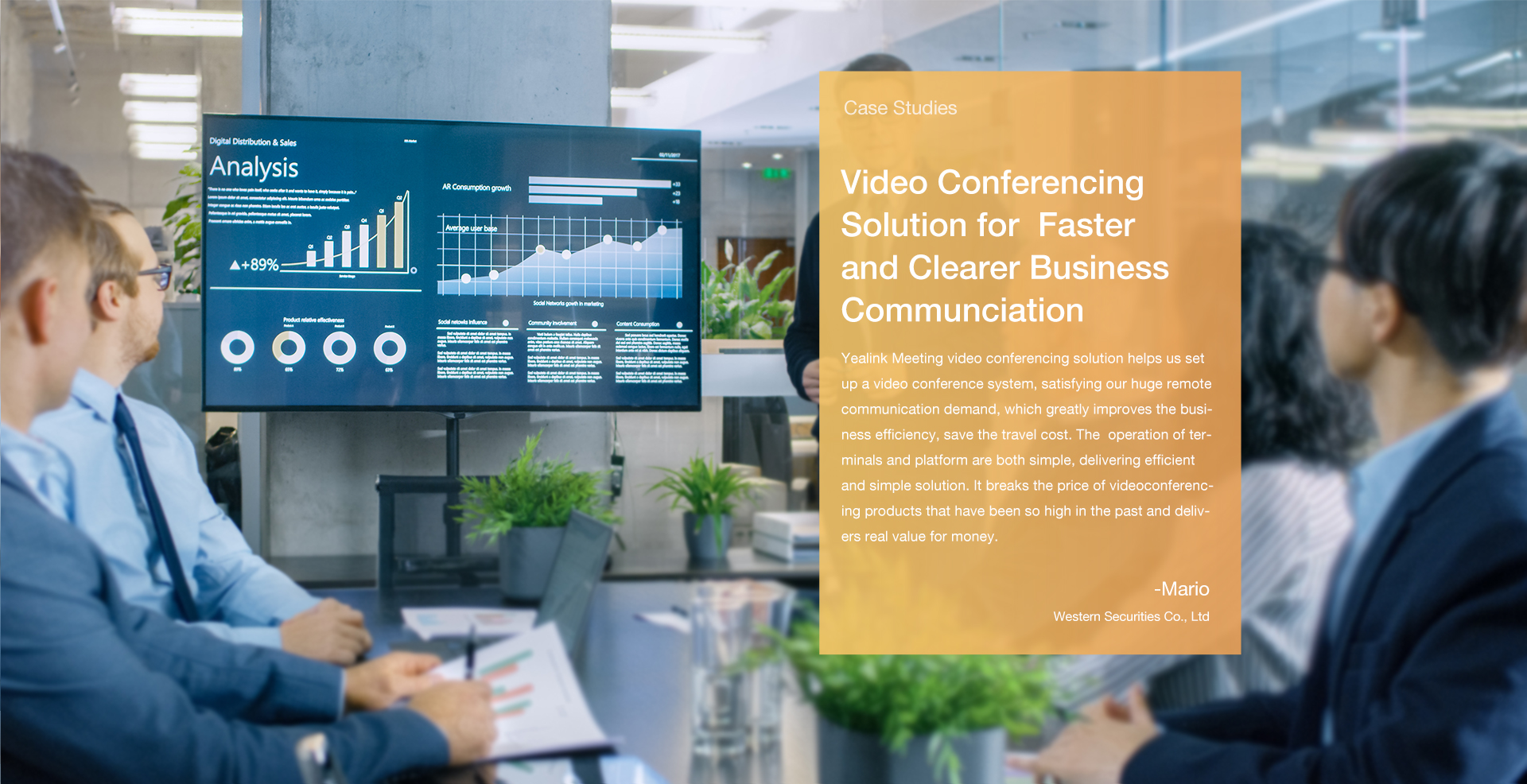 Contact Us
Please fill in information below, or email us at ucinfo@yealink.com and a dedicated Yealink expert will contact you soon.