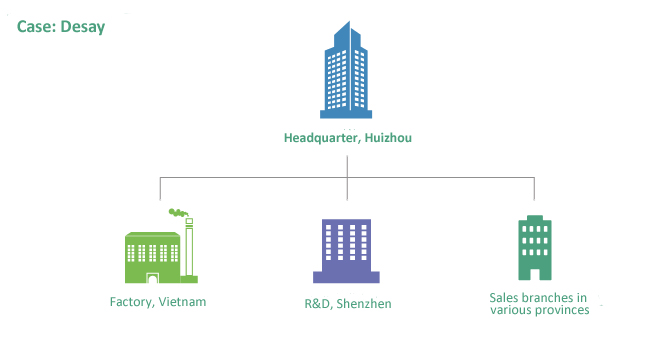 Communication challenges
● During the R&D stage for new products, the executive in the Huizhou head office, the engineers in Shenzhen, and the head of the factory in Vietnam needed to meet frequently. Due to expensive travel costs and inefficient communication , new product releases ususally took a long cycle, which in turn affected the company's competitiveness. The head of sales on the front-line was only able to return to the head office once a month for debriefing, and it took a long time for the company to receive comprehensive feedback from the market. After receiving market feedback, more R&D and manufacturing resources needed to be allocated to refine the products. It took a long time to respond to market feedback.
● Branch offices were not able to participate in regular meetings in the head office, and could only follow instructions passively. They lacked a sense of participation and belonging with the company's operations. The situation on the front-line could only be reported by a few branch managers, resulting in information asymmetries and affecting the efficacy of branch management.
● After a new product was released, an instructor had to fly out to each branch to conduct training. The training efficiency was low and the costs were high.
After implementation of Yealink video conferencing solution
● Engineers and factory supervisors no longer needed to fly back to Huizhou, and could contact the executives in Huizhou face-to-face within their regions. Through full high-definition video, high-definition document sharing and the 18X optical zoom cameras, the blueprints, sample models (color and material details), and the functions of the new products, could be explained and discussed in detail as if the object was actually in front of you. It greatly increased communication efficiency, which in turn shortened the release cycle.
● Foreign sales could use PC, tablets, or smartphones to join the head office video conferencing at anytime and anywhere, and the head office could receive market feedback immediately. The head office could convene a meeting with the R&D department and the factory at the same time and directly coordinate resources to modify products to respond to market feedback immediately.
● Branches could use video conferencing to join the weekly regular meetings at the Huizhou head office, and participate more in the company's decision-making process. The smoother information exchange made management more efficient and the company more cohesive.
● Instructors at the Huizhou head office could run training sessions with multiple front-line branches simultaneously. Not only could the instructor's expressions be seen clearly during training, high-quality images of drawings and enlarged new product details could be shared. The entire training process can be recorded locally and so that it could be watched by others who did not participate in the training session.