CP920 Conference Phone
Yealink designs its audio conferencing solutions to suit a range of different meeting environments. The CP960 and the CP920 address today's audio conferencing challenges and unify a clear-and-easy conferencing communication experience for both in-room and remote participants. The CP960 targets mid-to-large-sized meetings while the CP920 covers small-to-mid-sized meetings.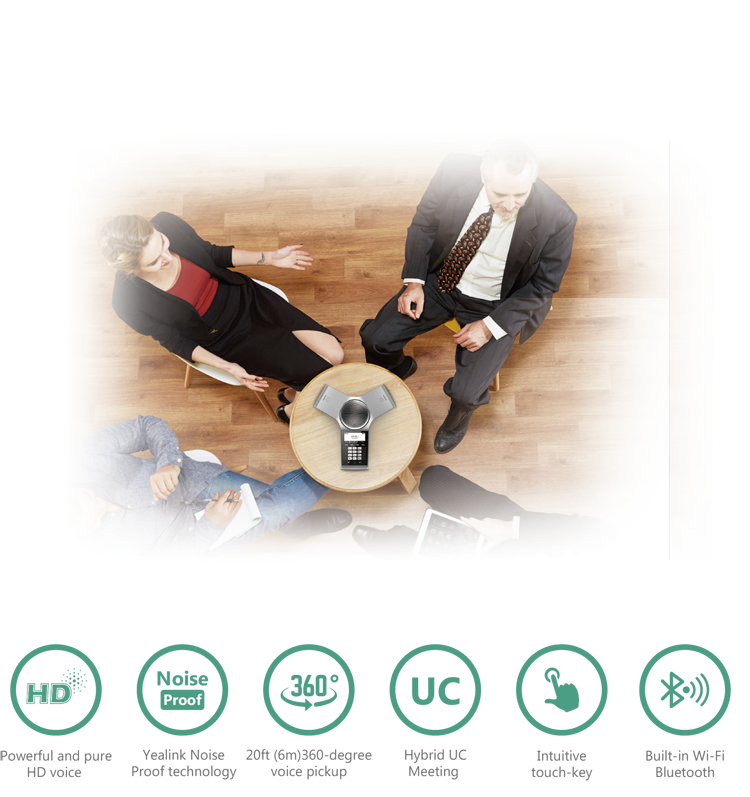 Pure and Powerful Sound Quality
Enterprise-grade and performance-oriented, Yealink conference phones deliver best-in-class HD audio quality for everyone in a meeting to keep pace with the team's collaboration and contribute inspired work.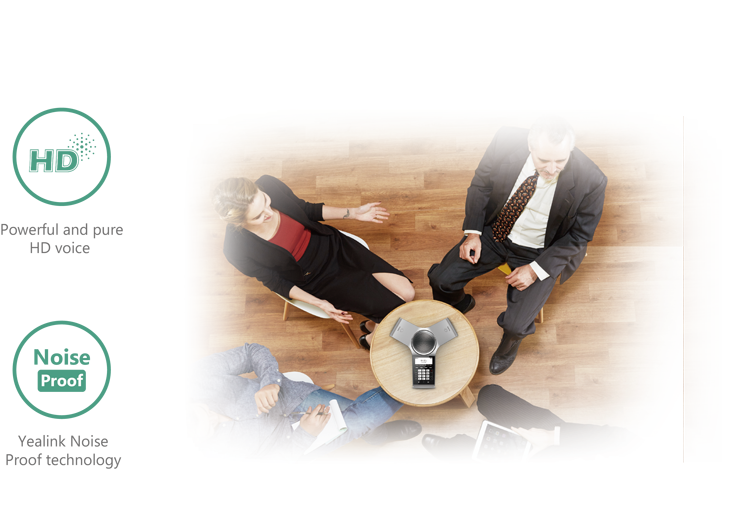 Wide-range Voice Pickup, Dead-zone Free
Featuring 20-foot 360-degree dead-zone-free voice pickup, the coverage area of the CP920 adapts to multiple room environments and provides a full sound experience.
Yealink Noise Proof Technology for Smart and Powerful Noise Elimination
Yealink's Noise Proof Technology frees business voice collaboration from annoying noise and optimizes conference efficiency by minimizing distractions. The Yealink Noise Proof technology includes two interrelated functions:
· During a conference, Noise Proof reduces constant background noise from sources such as typing, air conditioners, etc.; and
· When a person is not speaking, Noise Proof automatically mutes the mic(s) until the sound of a human voice is detected.
Ergonomic Design, Best-in-Class Experience
Stylish and professional, Yealink conference phones adopt a Y-shaped metallic sliver body design. For users who prefer a traditional key system, the CP920 offers a familiar touchable keypad for less stress and more comfort.
One-touch quick meeting starts and no interruption to the ongoing conversation make the CP920 incredibly user-friendly.
Hybrid UC Meeting Enabled
The CP960 and CP920 enable the Hybrid UC Meeting for extraordinary convenience. With Bluetooth and USB connectivity, you can easily pair the conference phone with a PC or mobile phone. Join or create a conference by simply merging the calls.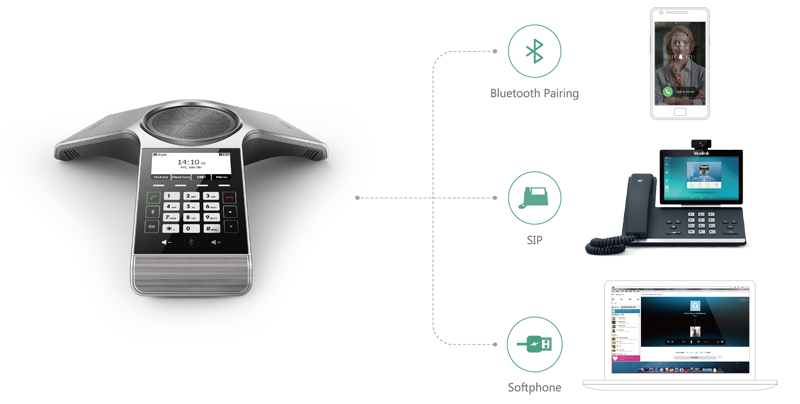 Model
CP960-WirelessMic
CP960
CP920
PSTN CP920
CP860
Compare
Download
Datahsheet
Datasheet
Datasheet
General
Operating System
Android 5.1.1
Linux
Linux
DDR2 Memory
1GB
512MB
64MB
Flash Memory
8GB
128MB
128MB
Built-in PoE
IEEE 802.3af
IEEE 802.3af
IEEE 802.3af
Built-in Bluetooth
Bluetooth 4.0
Bluetooth 4.0
x
Built-in Wi-Fi
802.11a/b/g/n/ac
802.11b/g/n
x
User Interface
LCD
5" capacitive touch screen
3.1" graphical LCD
2.7" graphical LCD
Resolution
720 x 1280
248 x 120
192 x 64
LCD Backlight
√
√
√
Voice
HD Voice
√
√
√
Wide-band Codecs
G.722, G722.1C,Opus
G.722, G722.1C,Opus
G.722
Narrow-band Codecs
G.711(A/µ), G726, G729, G723, iLBC
G.711(A/µ), G726, G729, G723, iLBC
G.711 (A/µ), G.729AB, iLBC
Microphone Pickup
20ft
20ft
10ft
Built-in 3-microphone Array
3
3
3
Interface
USB Port (2.0 compliant)
2
1
1
USB 2.0 Micro-B Device Port
1
0
0
Ethernet Port
10/100Mbps
10/100Mbps
10/100Mbps
Wired MIC Port (RJ-9)
2
0
2
Wireless MIC
2
0
0
0
0
3.5 mm Jack
1
x
1
Security Slot
√
√
√
Features
Yealink Noise Proof Technology
√
√
x
Noise Suppression
√
√
√
USB Recording
√
√
√
Five-way Conference
√
√
√
Creat meeting directly
√
x
x
Active speaker
√
x
x
Hybrid UC Meeting
√
√
x
PSTN (via CPN10)
x
x
x
√
√
Star Conncetion
√
√
x
x
x
For more complete product documentation, click Here"

Yealink is tailored for the enterprise one-stop video conferencing solutions
As the world's leading provider of UC terminal solutions, the global TOP2 SIP telephone provider, Yilian company to provide enterprises with one-stop video conferencing solutions, flexible to meet the needs of small and medium enterprises self-built and cloud solutions to help SMEs enjoy high quality , Easy to use, easy to expand the efficient video communication collaboration.
* Filling in the application form gives you the chance to get a free trial;
* After receiving your application for trial, we will have someone to contact you, please keep the mobile phone unblocked;
* Since the number of free trial places is limited, we will follow the "first come, first served" policy and apply for a trial request. Please apply as soon as possible;
* The final interpretation of this activity is owned by Xiamen billion joint networking technology Limited by Share Ltd. If you have any questions, you can send it to sales3@yealink.com for consultation.