Siemens Energy is one of the world's leading energy technology companies, with a global team of over 92,000 dedicated employees across 90 countries.
Siemens Energy preserves the finest aspects of its 150-year legacy, while pushing the boundaries of what is achievable and striving for sustainability in its decarbonization journey. The company focuses on innovation and future technologies, aiming for transformation in its offerings, portfolio, and mindset. Collaborating with customers and partners, Siemens Energy develops energy systems for the future, supporting the transition to a more sustainable world.
SUSTAINABILITY BEGIN WITH THE WAY PEOPLE WORK
Siemens Energy is committed to sustainable practices and believes that environmental responsibility starts within the workplace. Therefore, the company is constantly seeking ways to make its operations more environmentally friendly. In particular, digital communication has emerged as a crucial aspect, especially in light of the challenges posed by the COVID-19 pandemic.

At the onset of COVID-19, Siemens Energy relied solely on video conferencing to communicate with clients and investors. Having the right equipment was crucial to ensure flawless connectivity. Therefore, the Siemens Energy IT team embarked on a search for modern and reliable video conferencing systems. Yealink's innovative end-to-end solutions stood out, offering Siemens Energy a virtual communication experience that was almost as good as being there in person. By implementing Yealink's energy-efficient video conferencing hardware, Siemens Energy minimized the need for business travel and reduced emissions associated with transportation.
SIMPLICITY IS THE KEY FOR BETTER MEETING EXPERIENCES
Simplicity is the key. It is the baseline for the Siemens Energy IT team when searching for a standard video conferencing solution. Carsten Niggeschulze, the Head of Collaboration & Voice IT-Services, stated, "As the responsible person for collaboration services, finding solutions that simplify the users experience is crucial to me. They should be able to concentrate on their work rather than grappling with IT." In line with these criteria, Yealink stands out for its user-friendly interface and unmatched meeting experience.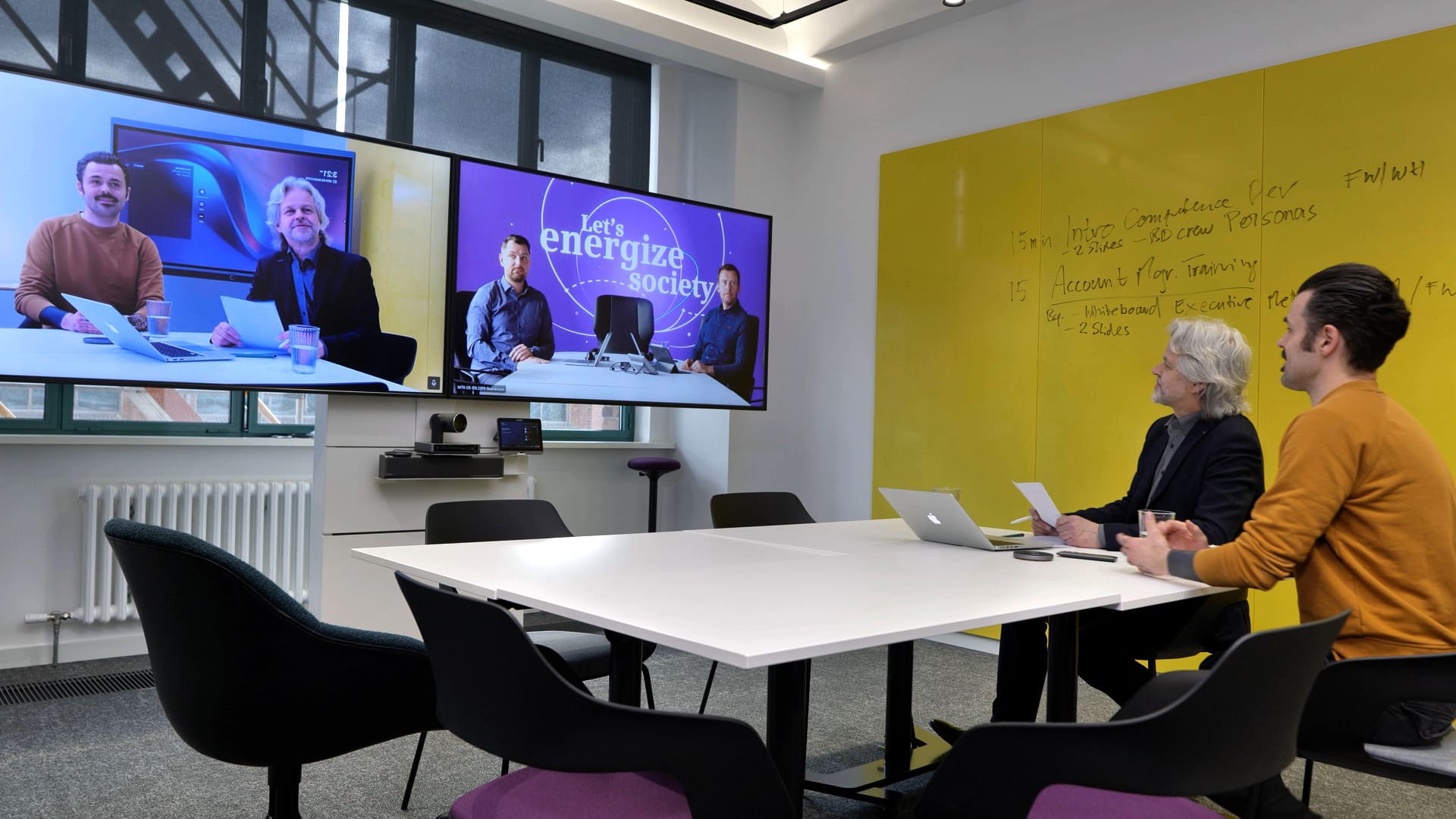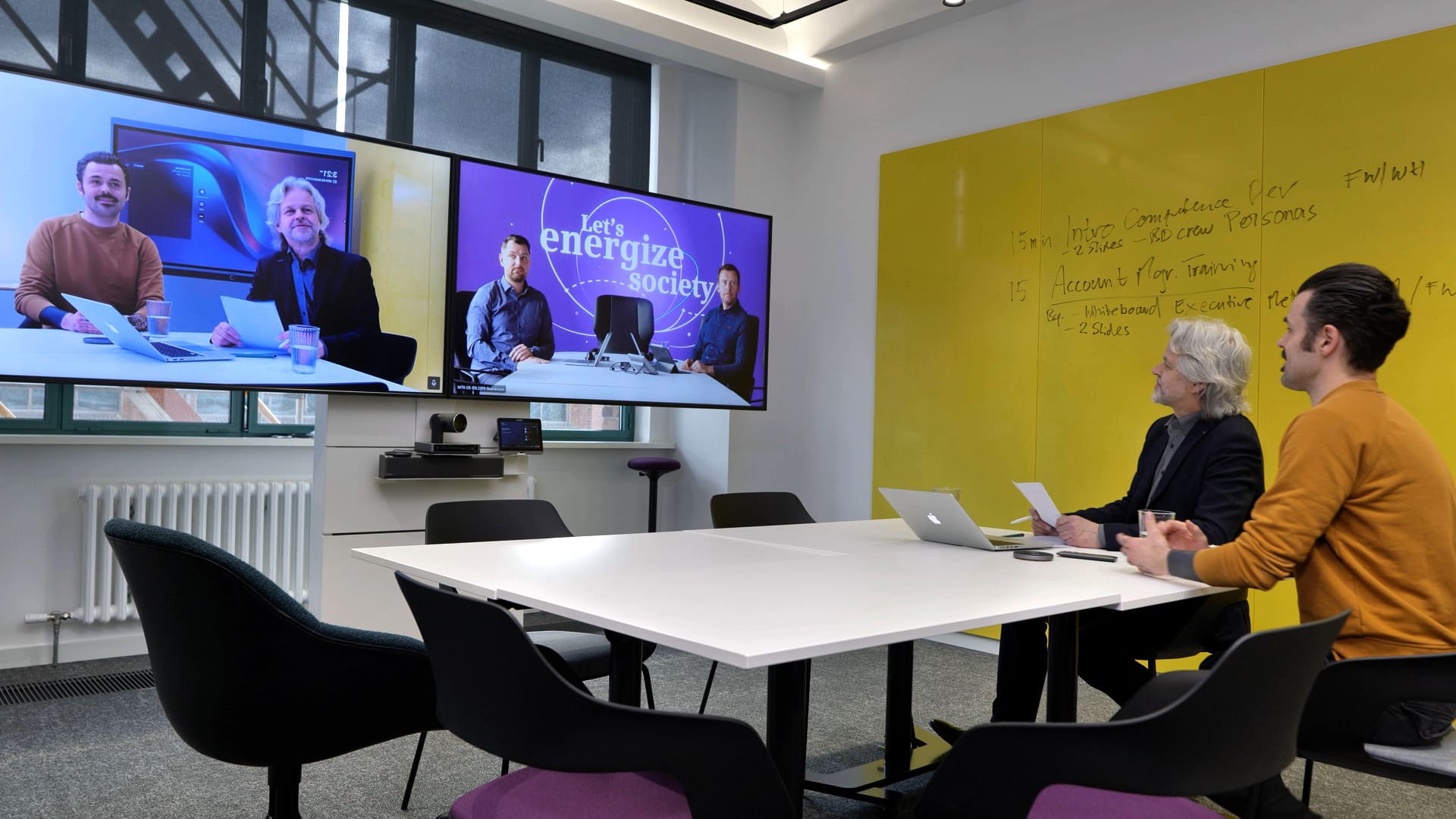 Yealink's MVC400, MVC860, and MVC960 video conferencing solutions were selected for meeting rooms of various sizes, ranging from small to extra-large. The UVC84 and UVC86 cameras offer 4K video output and 12X optical zoom capabilities, and could automatically detect, frame, and track participants within the room, creating a lifelike meeting experience. Another impressive feature that surprises users at Siemens Energy is the ability to pre-set desired framing positions before meetings. The UVC84 and UVC86 cameras precisely and accurately move to these preset positions.

Siemens Energy was also impressed by Yealink's unique wireless microphone system, the VCM36. With a 20ft (6m) range and 360° voice pickup, it extends coverage in large meeting rooms, ensuring equal speaking opportunities for everyone. Carsten mentioned that Yealink's wireless microphones simplified the meeting room setup for their local IT department. Users also find them incredibly user-friendly, as they only need to pick up a microphone, place it on the table, and they're ready to go.
EMBRACING INNOVATIVE TECHNOLOGY TO CREATE INTELLIGENT MEETING SPACE
A key benefit provided by Yealink is its commitment to constant innovation. For instance, Yealink's intelligent room devices have greatly contributed to creating a more efficient, intelligent, and stylish meeting environment for Siemens Energy. Carsten explains, "We use Yealink RoomPanel to display room availability, which is also linked to a RoomSensor that detects occupancy when someone enters the room. This allows people to easily determine reservation and usage status."

In an effort to create closer connections and collaboration among employees scattered across the globe, Siemens Energy also explored two of Yealink's latest all-in-one devices, MeetingBoard and DeskVision A24. These powerful devices enable hybrid workers to connect and create together no matter where they are.
Siemens Energy has taken a big step towards its sustainability goals with the help of Yealink and has achieved a quick shift to hybrid work, creating a modern, flexible workspace that truly serves all of its employees. "We are thrilled about the opportunities that digital advancements will bring and we recognize that video conferencing technologies are playing a significant role in this evolution", said Vinod. Carsten also stated that Siemens Energy is looking forward to strengthen their partnership with Yealink in the future to realize the full potential of modern video collaboration, which has the potential to provide added value to their organization's clients and staff and thus reinforcing their position in the global marketplace as a sustainability leader.
*Siemens Energy is a trademark licensed by Siemens AG.
CONTACT US
If you'd like to know more about Yealink Enterprise Solution, please fill in information below, or email us at ucinfo@yealink.com and a Yealink expert will contact you soon.