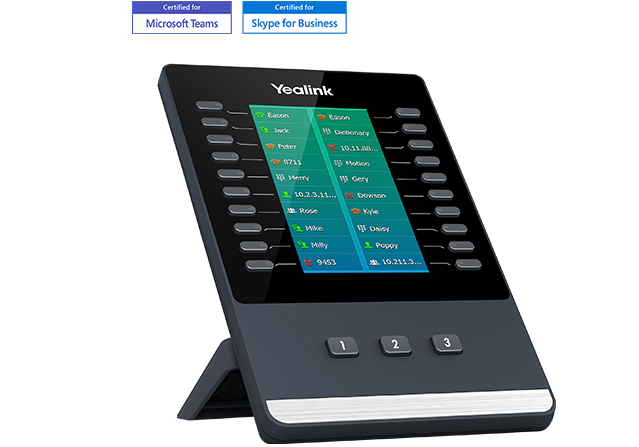 Dedicated module for adding efficiency and productivity
With a 4.3-inch color screen, 20 programmable physical keys and 3 page keys, Yealink EXP50 expansion module brings a fresh visual presence, intuitice user interface, and easy-to-use operating experience.
Each phone can support up to 3 EXP50s, adding 180 additional programmable keys with presence LED for multiple features, and making the EXP50 an ideal solution for receptionists, administrative assistants or employees of contact center to monitor contacts and manage a large volume of calls with ease.
Plug-and-play, customise your voice
communication experience
By connecting the EXP50 to a compatible Yealink Teams phone, the module support showing up to 20 contacts on each page for speed dialing or call transfer, while the status of the contacts are synchronized and presented with the color of the presence LED.
When connected to Yealink T5 series SIP phone, the provided multifunctional line keys can be set as BLF, speed dial, call forward, transfer, call park, call pickup, etc.
EXP50 Expansion Module | Features at a Glance
● 4.3" color display with backlight
● 20 physical keys with dual-color LED indicator
● 3 control keys with illuminated LED for fast page switch
● Supports up to 3 modules daisy-chain
● Stand with 2 adjustable angles
● USB port (2.0 compliant) for data in and out
Datasheet - Yealink EXP50 Teams Edition
 Download
Flyer - Yealink Device Solutions for Microsoft
 Download
CONTACT US
Please fill in and submit the information below and our representative will contact you soon.