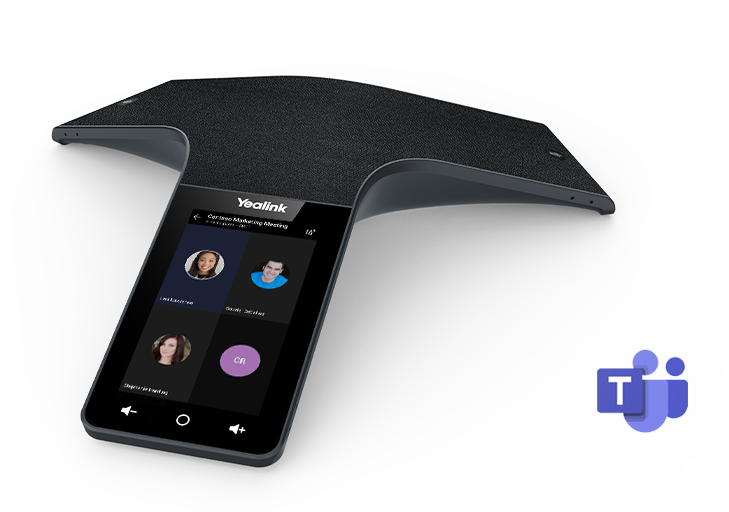 Deliver Microsoft Teams Experience
From Desktop to Conference Room
Yealink CP965 Team Edition is the flagship conference phone and is fully
compatible with Teams functions, including Teams key calling, meeting features,
and Outlook calendar, providing a rich and talented ecosystem. You can enjoy
a tap-to-join experience by syncing the Outlook calendar for meeting schedules.
Based on Android 11, the Teams user interface is reconciled to strike a delicate
balance between simplicity and complexity.
Game-changing Audio Presence
Immersive Conversation Environment
Inside the stunning appearance, a set of powerful technology and professional
components are wrapped to boost the CP965 with best-in-class audio performance.
The 13-microphone array is elaborately positioned in every "foot" and the center of
CP965 to assure omnidirectional voice pickup and effective noise-cancellation.
Attendees from every corner of the room can hear and be heard with equitable clarity.
Algorithm of Intelligence
Engineered for Productivity
Diving into the audio communication field for more than 20 years,
Yealink has developed a series of acoustic technology such as Smart
Noise Filtering, Optimal HD audio, and Noise Proof Technology to
eliminate all distracting sounds. The next-generation technology,
powered by solid processing performance, significantly improves
the audio quality in collaboration. The exchange of verbal messages
can be more productive than ever.

Efficient Provisioning and Management
The CP965 is coupled with Yealink efficient auto-provisioning mechanism,
including phone deployment and configuration. Administrators can take
advantage of centralized deployment, management and updates. CP965
also supports other device management platforms, including Microsoft and
Unify Square Device Management Platform.
CP965 Teams Phone | Features at a Glance
General Features
• Android 11
• 5'' capacitive touch screen
• Black acoustics fabric, resistant to water/oil/stain
Audio Features
• Optimal HD audio
• Yealink Noise Proof Technology, Smart Noise Filtering
• 20-foot (6-meter) microphone pickup range
• 12 built-in 12-microphone array for 360-degree voice pickup
• 1 built-in microphone for noise cancellation
• Full-duplex speakerphone with AEC
Phone Features
• Single sign-in
• Visual voicemail
• Change VM playback speed
Connectivity
• Built-in Bluetooth/Wi-Fi
• Power over Ethernet (IEEE 802.3at), class 4
• 1 USB 2.0 Type A port, 1 x USB 2.0 Type-C port