Touch the surface for easy volume adjustment.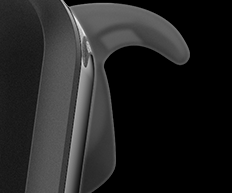 Different sized ear tips and accessories to meet personalized wearing requirement.
Touch the surface for easy volume adjustment.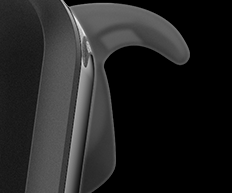 Different sized ear tips and accessories to meet personalized wearing requirement.

Empower Every Hybrid Worker
The WH63 Portable DECT headset enables to use independently and take easily without the traditional DECT Base, flexible and convenient enough for hybrid working or on-the-go use.
Deliver HD Voice with Yealink Acoustic Shield
With Yealink Acoustic Shield technology, the DECT headsets could well filter out background noise by 2x microphones while you are on a call,
which provides a HD voice quality for your listeners, and ensures distraction-free conversation.
Noise is a Productivity Killer
With a 2x Microphones design, it guarantees your customer a better communication experience. Hear what the wireless office headset can provide.

Play
Without WH63 Portable
With WH63 Portable
Compatible with diverse platforms, WH63 portable perfectly matches your UC platform, delivering consistent call experience, better communication quality and lower IT costs. Connected with PC or desk phone, it boosts your productivity with the smooth user experiences. Certified for Microsoft Teams, it is designed with a dedicated Teams button for activating Microsoft Teams with one touch.
Compatible with all Yealink Personal Collaboration Devices


Ensure Your Communication with Comfort

To meet various preferences of users, Yealink created the WH63 professional headset with a lightweight design, and 4 wearing styles, as well as different sized ear tips to ensure all-day comfort.
* Neckband and headband accessories are optional for WH63 Portable

Wireless Freedom & All Day Power
No matter when and where your conversation begins, the wireless headsets can always catch up your steps. With up to 120m wireless range and 7 hours talk time, it is suitable for users' daily communication needs. In addition, the product supports high-density installation in the open office, which allows up to 200 users (Europe) enjoy the wireless communication at the same time.
One For All Devices Management
Yealink USB Connect is available for the management of multiple Yealink USB devices, including wireless office headsets, speakerphones, and webcams.
All the settings can be done through Yealink USB Connect, for example, the setting of the basic and premium function of WH66, which is convenient and efficient for daily use.
Get the best solution for your organization and specific use case. Our experts can advise on products, compatibility, and UC deployments.
Apply for a free trial
We offer free headsets for companies of 500+ employees, who are replacing their current headsets or have a new project. T&Cs apply.
Terms & Conditions
Submitting the request form does not guarantee inclusion in the free trial program. Yealink reserves the right to review the requirements and decline entrance or request further information.
General terms:
1. The offer is available to organizations deploying 100 headsets or more.
2. The offer is valid for companies piloting, deploying, or using Unified Communications platforms or Contact Center solutions.
3. The offer is limited to one trial agreement per company location per country and not valid for partners and resellers.
4. The offer is valid until December 31, 2021.
5. The offer is subject to availability. Yealink reserves the right to cancel the promotion or vary the terms and conditions without notice.
6. Maximum number of free trial headsets*:
Up to 3 for deployments of 100 to 250 headsets
Up to 5 for deployments of 250+ headsets
7. Submission of false, incorrect, misleading, or fraudulent information may result in disqualification.

WH63 Product Video

WH63 Unboxing Video
FAQ
How to reset the DECT wireless headset?
Suppose the headset needs to fix. First, press the Call control button on the headset for nearly 12 seconds. During this period, keep holding the switch even if you hear the tone "Power off." Then the headset will be reset when you hear the tone "Power on." Next, test your headset and see if the issue resolve. If you're still experiencing problems with your headset, contact the Yealink support team for further assistance.
If you want to know more about "What DECT is" and "How it works," please visit "How to choose DECT wireless headset for your work."
How to ensure clear audio when I use my office wireless headset?
Make sure the microphone is close to your mouth to maximize speech quality. If the boom arm is long enough, place the microphone approximately 0.5 inches from your mouth. Use the Volume Up/Down key or Volume control panel on the headset to adjust the Volume up or down as needed.
How to use the conference call mode with my DECT headset?
You can set up a conference call by pairing up to three additional headsets with the same base. Likewise, you can pair a different headset by docking it in the ground and pressing the Call Button on the primary headset.
Will my headset and base pairing information be deleted when portable wireless headset is powered off?
When you answer an incoming call on a smartphone, the audio may stay in the smartphone. You can switch to the Bluetooth channel on your smartphone to transfer the audio to the headset.
Do the DECT business headset and base only need to be paired once?
Yes. If the headset and the base pair, the headset keeps paired with the base even if you undock the headset. However, if you move beyond range, you will hear an "out of range" tone from the headset. The headset is successfully paired with the base when you dock it in the ground for initial use.
Are DECT standards global?
The DECT (Digital Enhanced Cordless Telecommunications) is a digital communication standard but not a global one. The technology is nearly the same in countries where DECT system frequency bands allocate. However, the allocated radio transmitting frequencies and output power may vary from region/country to region. Therefore, DECT products should never use outside the intended region/country as they may cause interference with networks allocated in the band for other purposes.
If you want to know more about "What DECT is" and "How it works," please visit "How to choose DECT wireless headset for your work."