Working as a peripheral of computer or mobile phone, the MP50 is ideally designed for daily desktop office and hot-desking by offering softphone users familiar telephonic experience with user-friendly UI and premium audio performance. The ergonomic handset and hands-free microphone are also suitable for customers preferring devices that free from wearing stress.
All-in-One UC Workstation
As efficiency and productivity matter in modern workspace than ever before, an All-in-One UC workstation could be helpful in managing callings across devices.

With USB and Bluetooth connectivities, hands-free speakerphone, 4-inch multi-point touchscreen and USB hub feature, the MP50 is able to integrate multiple devices into a single phone for unified call controling.
Plug and Play,
Always Ready for UC Callings
Compatible with Microsoft Teams and Skype for Business, the MP50 USB phone will be automatically recognized after connecting to a PC or mobile phone, and be ready for placing or receiving calls instantly with the intuitive UI.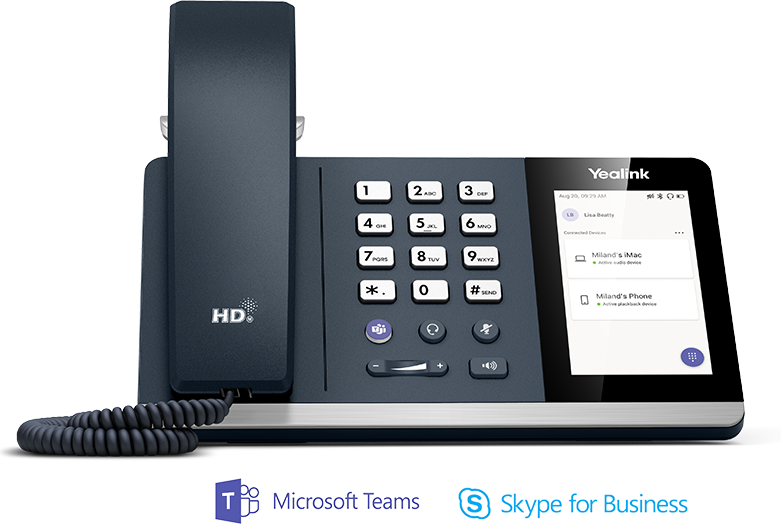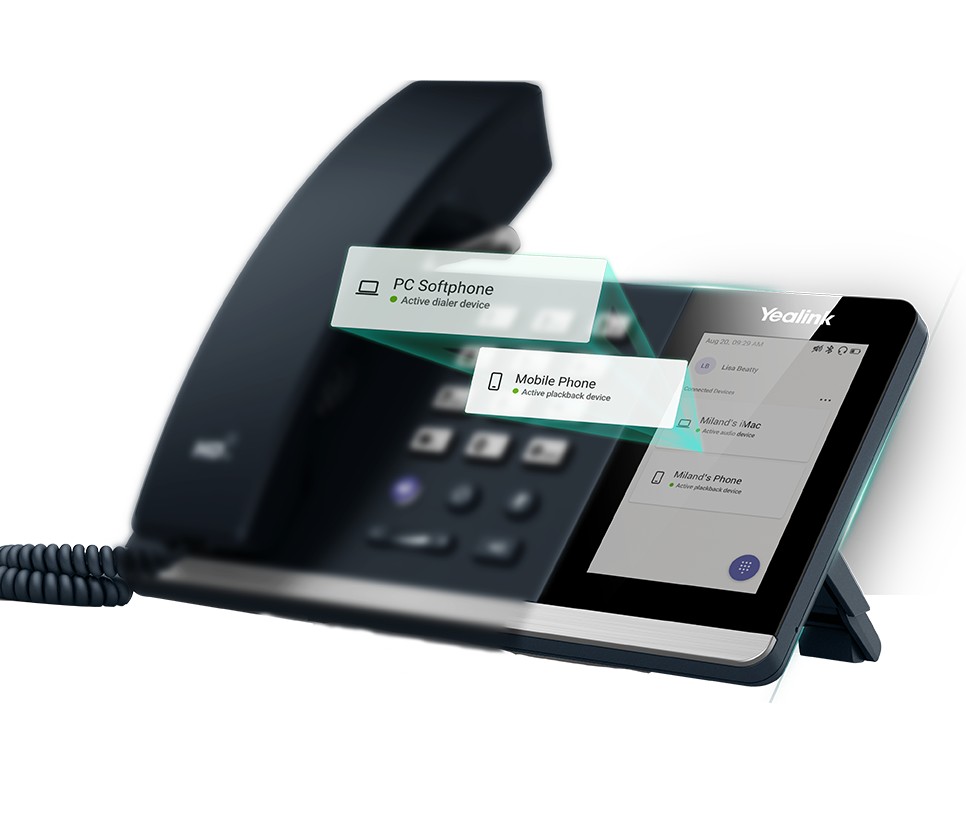 Simple and Clear UI,
Manage Your Devices and Calls at Fingertip
On the 4-inch touch screen, the connected devices could be managed through simple clicks. And for calling controls, Yealink MP50 offers both hard key pad as well as the touchable display for call answering, holding, muting and speaker mode, which provides a well-ordered working experience and delivers a unified, intuitive and visible interactive experience.
HD Audio Quality,
Sound Professional and Noise-free
Thanks to Yealink Optima HD voice and Yealink Noise Proof Technology, the MP50 delivers a crystal-clear voice communication experience for every user in open workspace or common area. The full-duplex hands-free speakerphone with AEC also presents immersive sound for either hands-free calling or music.
Support your workforce, upgrade and update phones in bulk, and get real-time alarms such as poor call quality or firmware upgrade failure with professional management platforms such as Teams Admin Center (TAC) and Yealink Management Cloud Service (YMCS).
MP50 USB Phone | Features at a Glance

• 4-inch capacitive touch screen
• 3-ports USB 3.0 Hub
• Supports Bluetooth Headset
• Supports BT50 Dongle for PC
• Supports Busylight
• Optimal HD Audio
• Yealink Noise Proof Technology
• Full-duplex Hands-free Speakerphone with AEC
• Dedicated Teams Button
• Microsoft Teams-tailored User Interface
• Teams and Skype for Business Compatible

CONTACT US TODAY!
Please fill in information below, or email us at ucinfo@yealink.com and a Yealink expert for Microsoft solution will contact you soon.