First Android 12 Teams Phone, Enhanced Security
Yealink MP58 microsoft phones, powered by Android 12, offers an upgraded user experience with faster response times and seamless interactive experiences. Android 12's enhanced security features protect sensitive data from malicious attacks, ensuring a secure and stable operating environment. Stay ahead in the security race with the trusted Yealink MP58.
Advanced Experience for Microsoft Teams to Stay Productive and Collaborative
Featuring a 7-inch capacitive touch screen, the MP58 brings rich visual presentation with the Teams-tailored user interface, offering intuitive and familiar navigation. The classic hard keypad with a dedicated Teams button also allows direct operation for quick response. Along with the adjustable display and ergonomic design handset, Yealink MP58 delivers a consistent and user-friendly Teams experience with high efficiency and productivity
Optional Wireless Bluetooth Handset for Adding Significant Mobility to Your Calling Experiences
To help the users stay connected while working away from the desk, mobility and flexibility performance of communication equipments are improved via innovative connectivity. By supporting the optional wireless Bluetooth handset, the MP58 will free your calling experience from sitting by the desk.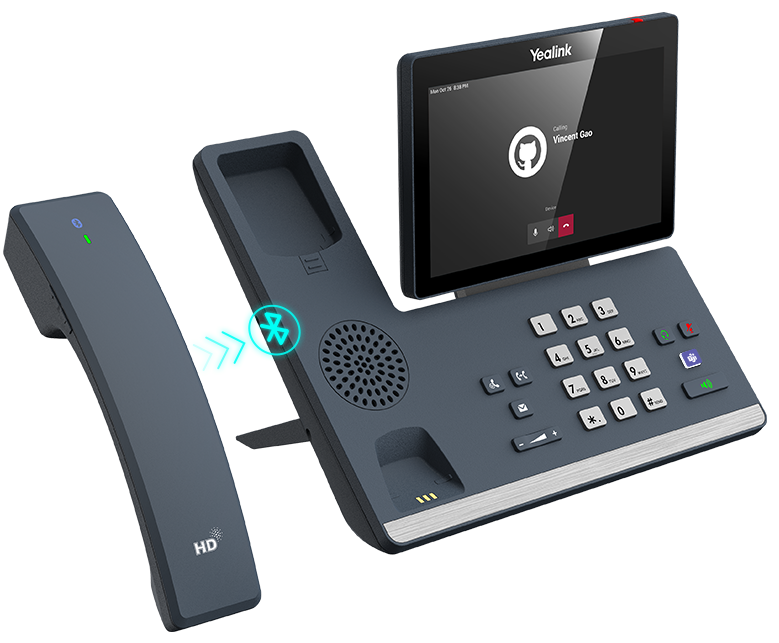 Professional and Sophisticated Audio Technology, Making Every Conversation Clear and Focus
The MP58 combines the professional hardware and software technology to deliver crystal clear voice communications. Thanks to Yealink Optima HD voice, Noise Proof Technology, and the hardware of full-duplex hands-free speakerphone with AEC and HAC handset, MP58 delivers excellent audio experience in every calling.
Support your workforce, upgrade and update phones in bulk, and receive real-time alarms, such as offline notifications or firmware upgrade failures, with professional management platforms. Whether you choose Teams Admin Center (TAC), Yealink Management Cloud Service (YMCS), or both platforms together, they make phone management a breeze.
Yealink Helps to Migrate Voice Communication from Skype for Business to Teams
According to Microsoft, Skype for Business Online and client will be retired on July 31, 2021. Skype Business Online customers are encouraged to begin planning the upgrades or start using Teams from now on. Click to learn more.
Yealink Teams devices support the upgradability of firmware from Skype for Business to the Teams edition.

Hybrid-mode feature on Teams devices provides simultaneous experience of Teams APP and SIP APP.
Any queries, please contact via UCinfo@yealink.com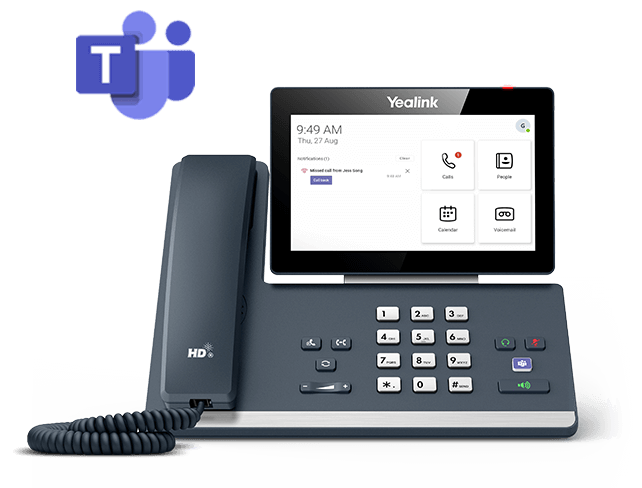 MP58 Microsoft Teams Phone | Features at a Glance
• Android 12 OS
• 7-inch capacitive touch screen
• Optimal HD audio, Yealink Noise Proof Technology
• Microsoft Teams-tailored user interface
• Dedicated Microsoft Teams button
• Supports Office 365, and upgradability of device applications to Teams or SFB
• Supports Yealink Bluetooth wireless handset BTH58
• Supports Yealink expansion module EXP50
• Built-in Bluetooth 4.2 and dual-band 2.4G/5G Wi-Fi
• 2 USB Type A ports, support USB headset
• Dual-port Gigabit Ethernet, PoE support
• Supports Microsoft/Yealink/U2 device management platforms
• Hybrid mode (Teams version only)
CONTACT US TODAY!
Please fill in information below, or email us at ucinfo@yealink.com and a Yealink expert for Microsoft solution will contact you soon.