Start Teams Meeting with All-in-One Video Bar
Getting started with Yealink UVC40, the all-in-one USB video bar offers a video and voice experience with an integrated AI-powered camera, microphone arrays and speaker. With the MTouch II and MCore mini-PC, Yealink MVC400 video solution for Teams conference rooms brings a dedicated MTR system that meets the requirements of focus and small meeting rooms.
Keep Everyone Engaged
in Smart Video Meeting
The Yealink UVC40 is equipped with AI technology, including Auto Framing and Speaker Tracking. With the 133° wide-angle lens and Auto Framing, the UVC40 can recognize the number of and the position of attendees, framing everyone smoothly in the most appropriate view even in small spaces. The Speaker Tracking technology with 20MP camera brings a vivid face-to-face meeting in a high-definition visual experience. In addition, with an electric lens cap, the UVC40 camera can automatically turn on and off with the aid of its detection function, securing the privacy of your MVC400 Teams conference rooms.
Sound Seamlessly
with Anti-noise & Full-Duplex Experience
With Yealink Noise Proof Technology and dereverberation, the UVC40 with built-in 8 MEMS microphone arrays and speaker allow users to enjoy full-duplex voice experience seamlessly without interruption and talking freely in a comfortable way.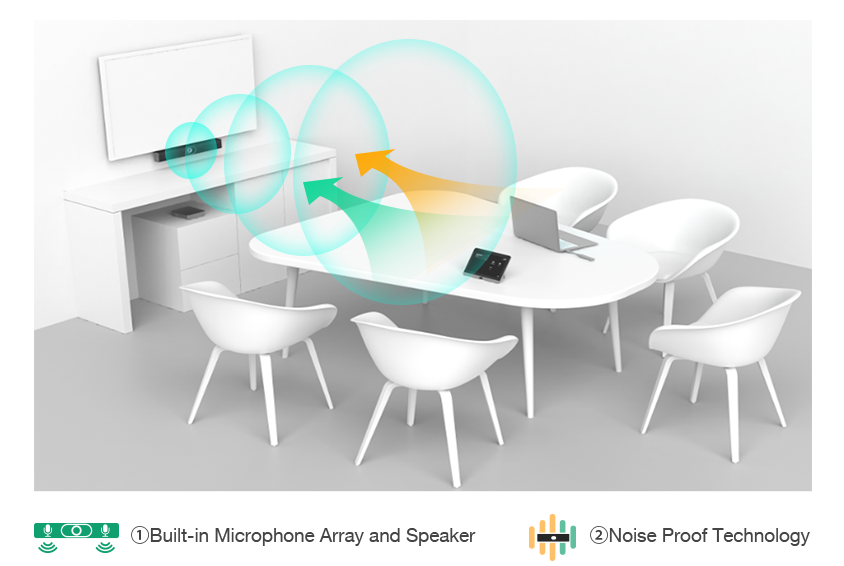 Instant Setup
for Your MVC400 System
In Yealink MVC II series Microsoft Teams conference room equipments, the MCore cable management solution integrates data transmission and power supply cables into one CAT5e cable, provides a straightforward solution to complicated cabling and reduces the deployment time in your Teams conference room. For MVC400 Teams conference room system, easy deployment can be realized with just connecting the MTouch II and the UVC40 to the MCore mini-PC.



Sharing Content
in Wired and Wireless Ways
All it takes is just plugging in the Yealink WPP20 and one click to share content wirelessly. You can also connect your laptop via the USB-C or HDMI port for easy content sharing. In the Yealink MVC II Teams conference room system, all participants have the flexibility of choosing either wireless or wired content sharing via Teams room devices and enjoy freely talking creative ideas through the effective Teams meetings.
Manage Your Devices Remotely
This solution supports the Yealink Device Management Platform/Cloud Service. You can flawlessly manage, monitor, configure, update and diagnose all Yealink audio and video Teams room devices and peripherals on this platform remotely.

Yealink One-stop Solutions for Microsoft Teams
For More Documents-Quick Start Guide/Deployment Guide
 Download

Interviews at Infocomm
Yealink MVC400 Specifications
Please fill in the information below, or email us at Ucinfo@yealink.com, and a Yealink expert for Microsoft solution will contact you soon.
FAQ
What is Microsoft teams room system?
Microsoft Teams rooms offer a complete meeting experience, bringing HD video, audio, and content sharing to meetings of all sizes, from the huddle to large conference rooms.
Microsoft Teams meeting rooms video conference system include vital components that provide a great user experience.
Touchscreen console
Compute module
Microsoft Teams Rooms application
Peripheral devices (camera, microphone, speaker)
External screens (maximum of two)
HDMI input
How can multiple video conference devices be managed remotely?
Yealink MVC Teams Room system supports Microsoft MMR and TAC management, while users can also use Yealink's device management platform
How are subsequent software version installations and upgrades implemented?
Yealink MVC Teams Room system can support Windows automatic upgrade, support Yealink YRC automatic upgrade
Can the pickup range of the MVC400 be extended with an external wireless microphone?
Yes, the MVC400 can be paired with the MCore and CPW90 wireless microphones to expand its pickup range, but the built-in microphone will be disabled.