Engineer Your Teams Meeting
with Pro-Grade MVC960 Bundle Solution
Designed for extra-large rooms, the Yealink MVC960 Microsoft Teams Rooms system is a bundle video solution with UVC86 multi-camera system, MCore mini-PC, MTouch II touch panel and AVHub, bringing a premium Teams meeting experience you need to interact, connect and collaborate with internal and external users seamlessly and intelligently.
Dual 4K Camera
Tracks Every Movement
The Yealink UVC86 is a built-in dual-eye 4K conference room camera with a panoramic camera to detect participants in real-time and a PTZ camera that follows you to capture the best picture of everyone in the room. Enjoy an accurate and smooth tracking experience whenever meeting participants are present. Empowered with a range of AI-driven features, including Auto Framing, Speaker Tracking and Presenter Tracking, the UVC86 delivers a smart and effective meeting.
Multi-Camera Solution,
Customized Layout in Any Meeting
With the AVHub in the bundle, the MVC960 system allows users to enable multiple cameras simultaneously from a single room, better capturing participants and providing different views of the rooms. Moreover, the admin can choose different tracking modes for each camera. In the meantime, remote attendees can view the video feeds of all enabled room cameras in a customized layout, contributing to more industrial scenario applications. Paired with Yealink BYOD Extender, the MVC960 enables multi-camera control even in third-party meetings. All these make Yealink MVC960 a video conferencing equipment for large rooms.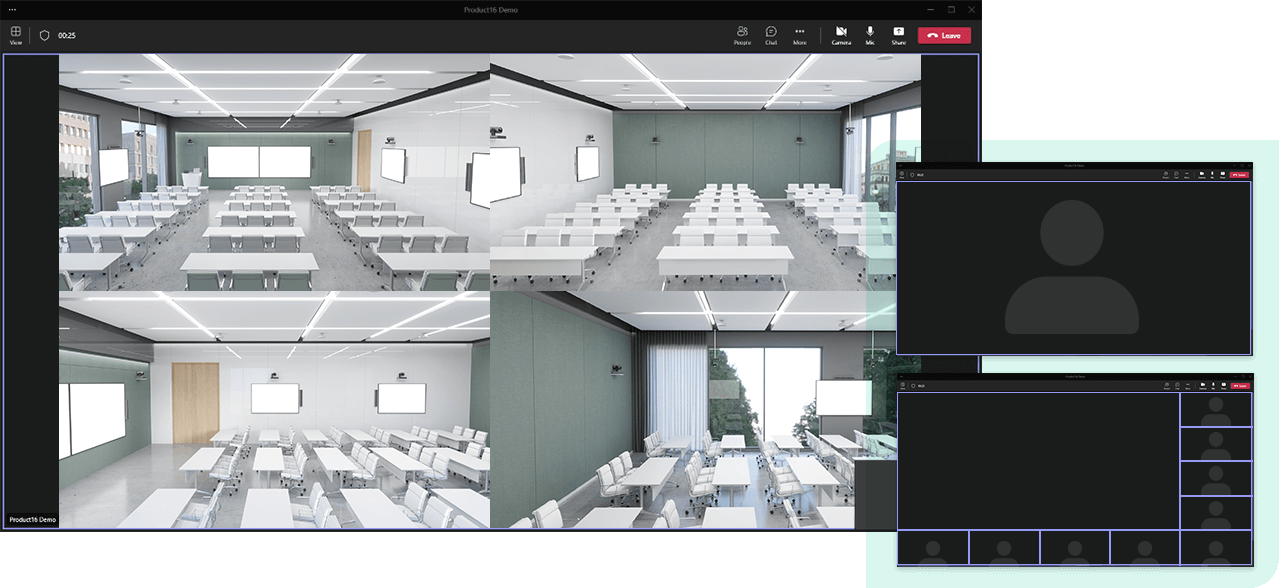 Flexible Audio Solution
Fits Particular Needs
Yealink MVC960 system brings more flexibility to the audio solutions. Users can choose any Yealink voice devices for Microsoft Teams including Yealink VCM34 microphone, VCM38 ceiling microphone, and the MSpeaker II or audio solution from the mainstream third-party providers including Shure, Biamp, etc. for particular needs.
AI-Enabled Chipset,
Infinite Possibilities for Future Applications
Yealink AVHub can be used with multiple UVC86s to provide a multi-camera solution with the feature of the camera, camera that follows you help audience engaging more during the conference. Equipped with a powerful AI-enabled chipset, AVHub empowers the new MVC960 bundle great scalability in future applications including together mode in Microsoft Teams. The AVHub enables direct audio and video processing, reducing the operational burden of Mcore.
Multi-mounting Options
Simplified Connections
The MCore mini-PC can be set up according to a particular room layout. Mounting on the wall, sticking to the table can be realized. Also, in all Yealink MVC room systems, the MCore cable management solution integrates data and power supply into one CAT5e cable. Moreover, only one USB cable is needed connecting Mcore and all audio and video devices with AVHub, greatly saving deployment effort and time.

Users can enjoy easy content sharing by plugging in the Yealink WPP20 with one click to share the screen wirelessly or connecting the laptop to the meeting through the USB-C or HDMI port. In the Yealink MVC Microsoft Teams Room systems, all participants have the flexibility of choosing either wireless or wired ways of content sharing.
Yealink MVC series video solution supports the Yealink Device Management Platform/Cloud Service. You can manage, monitor, configure, update and diagnose all Yealink audio and video devices and peripherals on this platform remotely.
Yealink MVC960 Specifications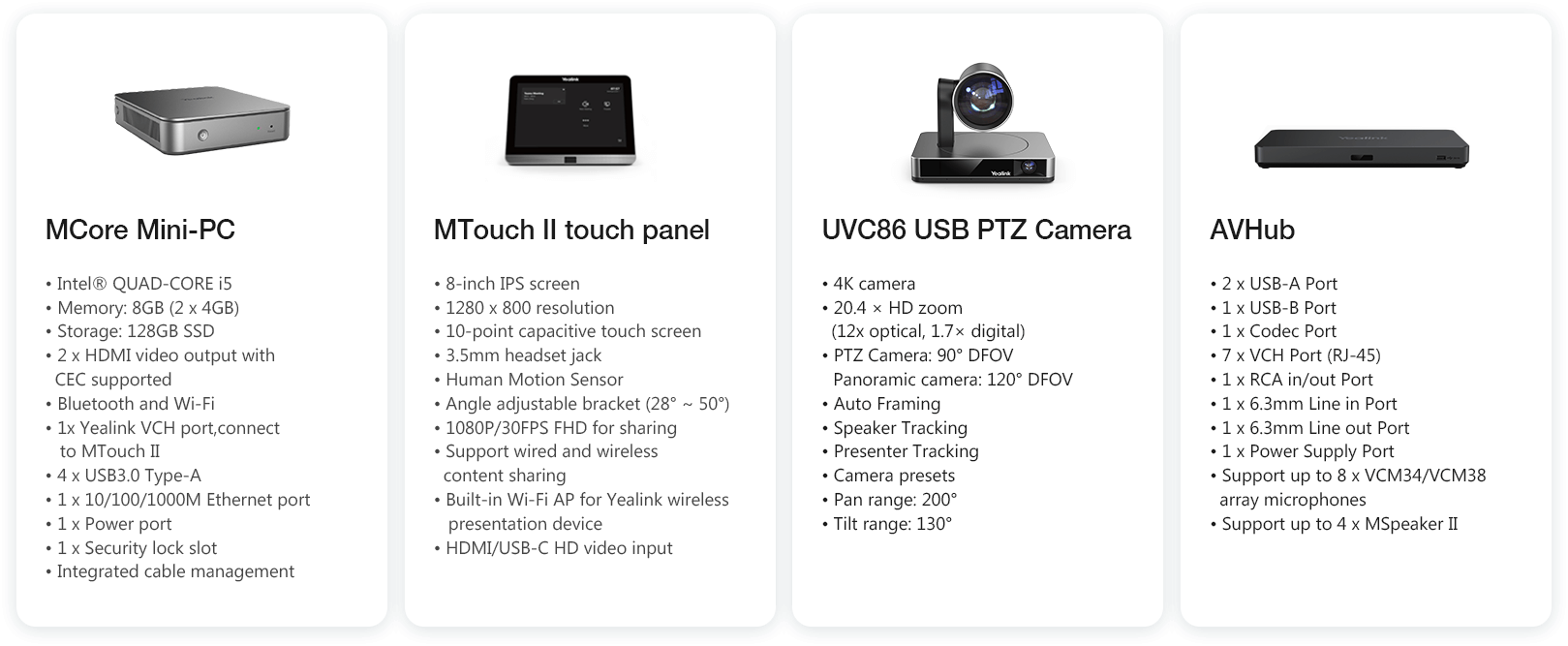 If you need assistance or have questions, please contact one of Yealink Microsoft experts here.
FAQ
What components are included in a Yealink Microsoft Teams Rooms system MVC series?
Yealink MVC Teams Rooms system usually includes a USB audio device, a USB camera, an HDMI Ingest device, a meeting control panel, and a compute module.

What is the difference between Yealink MVC 960 multi-camera solution and Teams multi-camera support function?
Yealink MVC960 Teams Room system allows users to choose different tracking modes for each camera and stream the feed from the different cameras simultaneously with a customized layout. In comparison, the multi-camera function of the software is the ability to connect multi-camera but only stream from one chosen camera.
How are subsequent software version installations and upgrades implemented?
Yealink MVC Teams Room system can support Windows automatic upgrade, support Yealink YRC automatic upgrade
How do I create a meeting room in Microsoft teams room device?
Desktop:
Your calendar in Teams is connected to your Exchange calendar. In other words, when you schedule a meeting in Outlook, it'll show up in Teams, and vice versa.
Every meeting scheduled in Teams is automatically made into an online meeting.
Schedule a meeting
1. Select Schedule a meeting button in a chat (below the box where you type a new message) to book a meeting with the people in the chat.
2. Go to the Calendar Meetings button on the left side of the app and select New meeting in the top right corner.
3. Select a range of times in the calendar. A scheduling form will pop open.
The scheduling form is where you'll give your meeting a title, invite people, and add meeting details. Use the Scheduling Assistant to find a time that works for everyone.
For further details, please go to
https://support.yealink.com/en/portal/knowledge/show?id=60d47355076300004a00703d