Yealink Meeting Server(YMS)
Powerful collaboration software makes meeting simpler
The increasing in modern communication means that a quality meeting management system is more important than ever. Yealink Meeting Server is a distributed cloud-based video conferencing infrastructure tailored for HD video conferencing collaboration in the modern workplace. As a powerful all-in-one meeting server, YMS brings together a host of key features and services: MCU, registrar server, directory server, traversal server, meeting and device management server, SIP Trunk, WebRTC server, GK & H.460 server, Microsoft SfB (Lync) gateway, recording server and collaboration server.
YMS connects people with crystal-clear audio, HD video, content and web collaboration, bridging locations across any distance or device and providing users with an enjoyable conferencing experience while cutting costs and improving efficiency.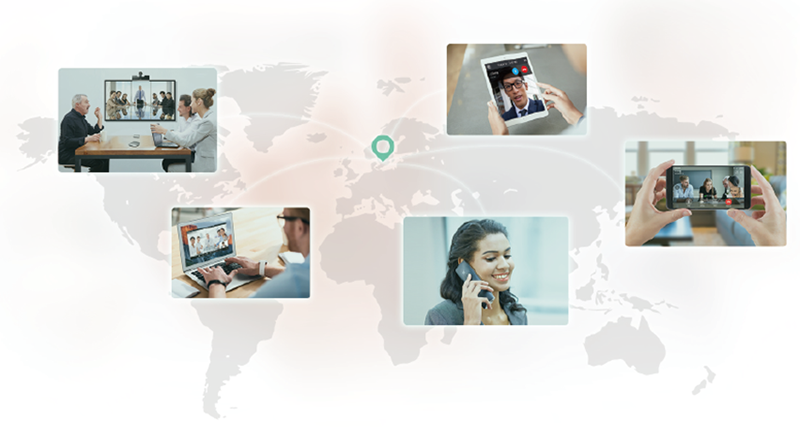 Multiple modes to create conferences


YMS supports multiple video conference modes to satisfy diverse demands, including P2P calls, ad-hoc and scheduled conferences, and training mode.
Integrated with OA features, it enables people to schedule video conferences and meeting rooms at the same time through a PC Client, on the Web or via Microsoft Outlook. Conference reminder and one-touch conference access are displayed on endpoints for quick user engagement.

Connect anyone from any device, anywhere


Enabling multiple ways to join a conference, YMS offers an effective real-time experience, putting an end to typical network and conferencing challenges. At the office, users can enjoy a simple HD video conference thanks to the room system. On the road, they can join a conference with their PC or mobile device software, or even by simply opening a web browser, attending by dial-in is also available.

Optimal conference experience


YMS addresses the needs of various conferencing scenarios with rich conference control features, including mute/unmute, turning on/off camera, sharing meeting info, recording, customizing conference video layout for each participant, etc. In addition, YMS supports collaboration features including content sharing, whiteboard and annotation, which greatly improves conference effecinecy

Conference statistical analysis


Graphic display of conferences, MCU resources and call detail records effectively improve resource statistics and analysis for the administrator. Remote diagnosis and management improve the management efficiency of the YMS platform. Adding external recording server enables media recording, storage and on-demand learning.
Features
Yealink Meeting Server
Server Module
All-in-One
MCU, Registrar Server, Traversal Server,
Meeting and Device Management Server,Enterprise Directory Server,
SIP Trunk Server (Video & Audio),WebRTC Server, GK& H.460 Server, SfB (Lync) Gateway, Recording Server, Collaboration Server
Conference Capability
Concurrent Calls
By license
Additional Audio Calls
40 ways
Concurrent VMR
Unlimited
Broadcasting Interactive Conference
Up to 1,500 parties from External Server
Communication Protocols and Codecs
Communication Protocols
SIP / H.323 / RTMP
Dual Stream Protocols
BFCP / H.239 / RDP
Video Codecs
H.265, H.264 High Profile, H.264, H.263+, H.263, VP8
Audio Codecs
Yealink ARES, Opus, G.722.1C, G.722.1, G.722, G.711(μ/A), G.729, G.729A, G.728, G.729AB, AAC-LC
MCU Features
Resolution
4K, 1080P, 720P, 360P, 4CIF, CIF
Frame Rate
Up to 60fps
Distributed Architecture
Server Cluster Management & Multi-host Hot Standby
Server Federation
Server Federation Management & Multi-server Cascading
Universal Transcoding & Continuous Presence
√
MCU Stack Technology
√
Cascading Video Conference
√
Automatic Dialing & Redialing
√
Flexible Layouts
Equal NxN (N=2, 3, 4, 5, 6, 7), onePlusN (N=0, 4, 7, 9, 12, 16, 20), twoPlusN (N=8), Overlay and Selected Speaker
Microsoft SfB Interoperability
P2P call and join conference with video, audio and content sharing
Join With Browser (WebRTC)
Chrome (52+), Firefox (52+), Safari (11+)
Recording
Recording, VOD and Management
Face recognition service
Identifying the speaker through External Server
Other Functions
RTMP Live, Audio IVR, Display Native Video and Content, Display audio parties, Chat in Conference
Safety and Reliability
Bandwidth Dynamic Adaptive Adjustment
Anti 30% video and70%audio packet loss,QoS
Security Protocols
TLS / SRTP / HTTPS / SSH / H.235, AES-256bit
Firewall Traversal
Deploy conferencing nodes in a public DMZ: Enables deployment of privately-addressed conferencing nodes behind NAT firewalls; allowing external parties to connect directly via a public address.
Meeting Management Features
Schedule Video Conference & Meeting Room
Through Web or Outlook Plugin or PC Client
Multiple Conferencings
P2P Call, Meet Now, Ad Hoc, Scheduled Conferencing, Permanent VMR
Multiple Conference Mode
Training Mode, Discussion Mode and Lecturer View
Integration with Yealink VC Endpoints
Sync Conference Information, Conference Reminder, One-touch Conference Access, Apply for Speaking
Conference Control
Invite/Remove, Lock/Unlock/End Conference, Conference Lobby, Conference Monitoring,Mute/Unmute Video & Audio, Block/Unblock Audio, Change Roles, Sharing Permission, Rename, Roll Call, Call Statistics, Conference Banner / Subtitle / Agenda, FECC
Personal Layout
Voice Activated Speaker, Video Carousel, Customized Layout and Application Parties
Registrar and Traversal Features
User Accounts
Organizational Structure and up to 100,000accounts
Enterprise Directory Synchronization
√
LDAP
Synchronize directory from Microsoft AD Server
Third-party Device Registration
SIP / H.323
Traversal Features
ICE / TURN / STUN / NAT / H.460
System & Device Management
Virtualization Deployment
Vmware & Hyper-V
Web Management
Friendly Web UI and Setup wizard
Customization
Web & Logo, Email Template, Audio IVR and SIP Trunk IVR
Administrator Authority Management
Multilevel Administrator Management Authority
System Status Monitoring
Web-based real-time dashboard & data update on capacity and system information
Resource Statistics Management
Graphic display and statistics & analysis of conferences, MCU resources and CDR
System Maintenance Management
Remote Upgrade, Backup/Restore, Reboot/Factory Reset and Syslog, Network Ping, Packet Capture, SNMP
Device Remote Management
Automatic Upgrade, Reboot, Factory Reset, Packets Capture, Export Logs and Export Configuration File
System Security Management
Blacklist, Whitelist and Intelligent Security Strategy
Language Support
English, Russian, Portuguese, Spanish, Polish, Japanese, Simplified and Traditional Chinese
For more complete product documentation, click Here

Yealink is tailored for the enterprise one-stop video conferencing solutions
As the world's leading provider of UC terminal solutions, the global TOP2 SIP telephone provider, Yilian company to provide enterprises with one-stop video conferencing solutions, flexible to meet the needs of small and medium enterprises self-built and cloud solutions to help SMEs enjoy high quality , Easy to use, easy to expand the efficient video communication collaboration.
* Filling in the application form gives you the chance to get a free trial;
* After receiving your application for trial, we will have someone to contact you, please keep the mobile phone unblocked;
* Since the number of free trial places is limited, we will follow the "first come, first served" policy and apply for a trial request. Please apply as soon as possible;
* The final interpretation of this activity is owned by Xiamen billion joint networking technology Limited by Share Ltd. If you have any questions, you can send it to sales3@yealink.com for consultation.