W41P DECT Desk Phone
The Yealink DECT desk phone W41P is a great complement to busineesses who have or need Yealink DECT solution. As a desk phone, it provides simplicity of use with familiar digital keypad as well as rich navigation and line keys. Information is available at a glance with vivid LED indicators and a 2.7" 192x64-pixel screen display on T41S. The integration of Yealink DECT dongle DD10K enables T41S to work concurrently with the Yealink DECT system as a handset (Yealink W60B suppports up to 8 DECT handsets in total)*. With deployment workload impressively reduced, it's true plug-and-play.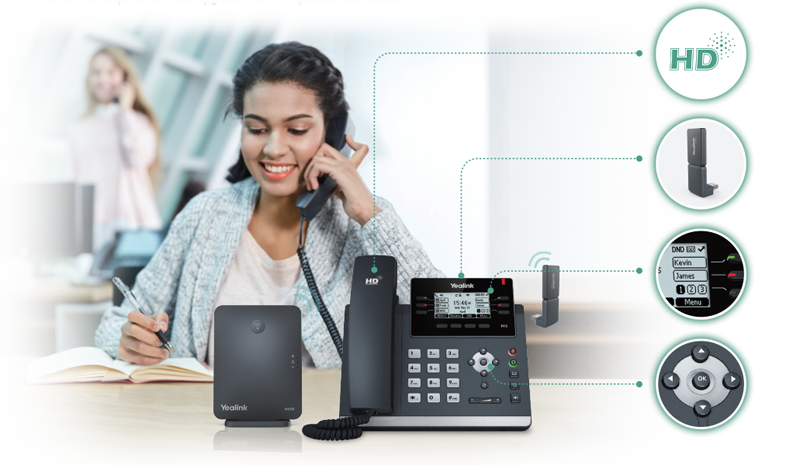 Key Features of W41P
• Exceptional HD sound quality for every single conversation;
• 6 line keys with LED indicator for feature customization (e.g. one-touch speed dial and redial);
• Up to 100 phone book memory for easy contact management;
Yealink DECT Solution Ecosystem
The Yealink DECT phone solution enhances communication productivity and flexibility for on-the-move employees in various business segments. The new Yealiink DECT desk phone W41P is a package of T41S, W60B and DECT dongle DD10K; it offers the user a delightful interface and exceptional HD voice quality in addition to the ease of deployment that reduces IT department workload. It's time to equip your office with Yealink's scalable, feature-rich and HD DECT IP phone solution so that you can enjoy absolute flexibility in your business communications.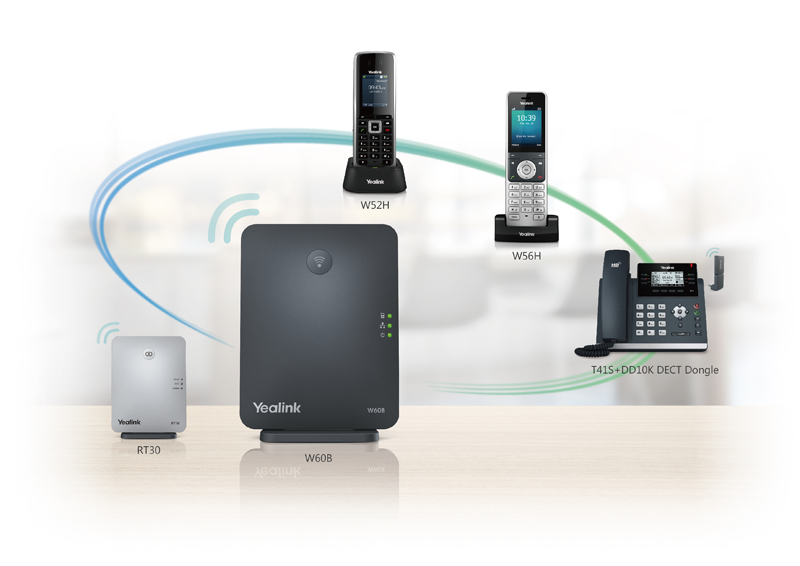 Yealink DECT USB Dongle
The Yealink DECT dongle DD10K enables T41S/T42S to work concurrently with theYealink DECT system as a handset after pairing with Yealink W60B DECT IP base station. Supported by a powerful transmission rate of 552kbit/s, this solution provides you with a quick and reliable DECT connection without wiring or cabling troubles, and gives you the privilege to enjoy wireless communications in minutes.
Bring Scalability to Cordless Communications
The launch of these new products is another step Yealink takes to complete its DECT IP phone solution, offering delightful user interface, exceptional HD voice besides the ease of deployment that reduces IT department workload. Customers from various business segments will be able to enjoy the scalability and flexibility of communication delivered by Yealink DECT Solution.
Model
W60P
W41P
W52P
Compare
Download
Datasheet
Datasheet
Datasheet
Display
LCD Display
2.4" 240 x 320 TFT Color Display
2.7" 192 x 64 Graphical LCD
1.8" 128 x 160 TFT Color Display
LCD Backlight
√
√
√
Features
Standby Time
400h
x
100h
Talk Time
30h
x
10h
Battery
Lithium
x
NiMH
Headset
3.5 mm
RJ9/EHS
2.5 mm
Indoor Range/Outdoor Range
50m/300m
50m/300m
50m/300m
Handset Number Per Base
Up to 8 handsets
Up to 8 handsets
Up to 5 handsets
SIP Accounts
8
8
5
Simultaneous Voice Call
8
8
4
Repeater
√
√
√
DECT Standard
CAT-iq 2.0
CAT-iq 2.0
CAT-iq 2.0
3-Way Conferencing
√
√
√
Speed Dial
√
√
√
Audio
Wideband Codec
Opus, AMR-WB (Optional), G.722
Opus, AMR-WB (Optional), G.722
G.722
Narrowband Codec
PCMU, PCMA, G.726, G.729, iLBC
PCMU, PCMA, G.726, G.729, iLBC
PCMU, PCMA, G.723, G.726,G.729, iLBC
HD Voice
√
√
√
Interface
Ethernet Interface
10/100M
10/100M
10/100M
PoE
√
√
√
Bluetooth
x
x
x
Wall Mountable Base
√
√
√
Feature Keys
Softkey
2
4
2
Navigation Key
5
6
5
Line Key
x
6
x
Function Key
6
5
6
Volume Control Key
0
2
0
For more complete product documentation, click Here"
RT30

Compatible with DECT CAT-iq 2.0
Compatible with Yealink W60B/W52 DECT IP Base Station
Up to 6 repeaters per base station
Star connection
Up to 2 repeaters can be arranged in cascade
Auto association
HD voice
Plug & play setup
Clear status LED display
Elegant Design
Wall Mountable
Datasheet Download

DD10K

Supports Yealink SIP- T41S/T42S with FW 66.82.0.35 only
Reliable Connection
Ease-of-use
Plug and Play
High Transmission Rate
Datasheet Download

Yealink is tailored for the enterprise one-stop video conferencing solutions
As the world's leading provider of UC terminal solutions, the global TOP2 SIP telephone provider, Yilian company to provide enterprises with one-stop video conferencing solutions, flexible to meet the needs of small and medium enterprises self-built and cloud solutions to help SMEs enjoy high quality , Easy to use, easy to expand the efficient video communication collaboration.
* Filling in the application form gives you the chance to get a free trial;
* After receiving your application for trial, we will have someone to contact you, please keep the mobile phone unblocked;
* Since the number of free trial places is limited, we will follow the "first come, first served" policy and apply for a trial request. Please apply as soon as possible;
* The final interpretation of this activity is owned by Xiamen billion joint networking technology Limited by Share Ltd. If you have any questions, you can send it to sales3@yealink.com for consultation.