Yealink Skype for Business HD SIP Phones
Full Portfolio of Quality Phones
√ Strict Product R&D Process

√ Microsoft Certified Endpoints

√ Optima HD Audio (HD Voice)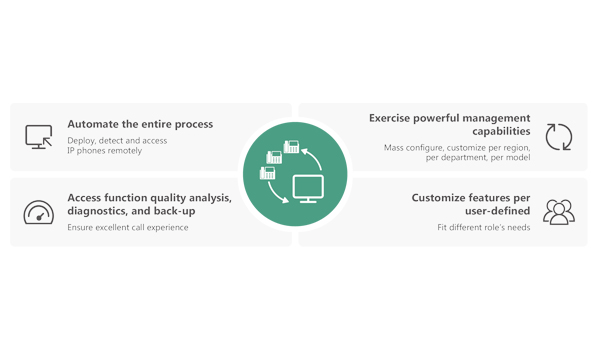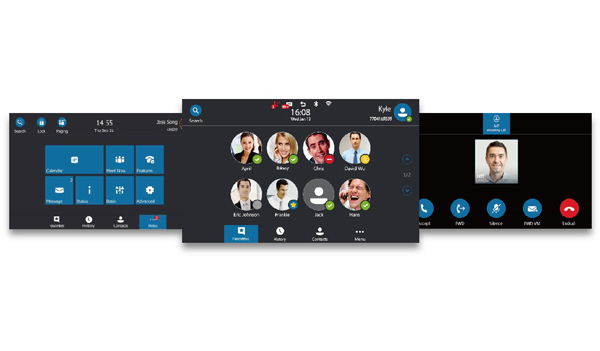 Enhanced Productivity
√ Skype for Business User-interface

√ Low Cost-of-Learning

√ BToE,Boss/Admin, Calendar, Presence status
Global Network
√ Microsoft Strategic Partner

√ Global Top 1 SIP Phone Provider

√ Global Distributor Network

√ Global Service Support
Device Management Platform

CP960-Skype for Business® Edition
• Optimal HD Voice, full duplex technology

• Yealink Noise Proof Technology

• 20-foot (6-meter) and 360-degree microphone pickup range

• 5"720x1280 multi-touch screen, modern interface

• Calendar, Skype for Business conferencing, CAP, Boss/Admin, Hot desking

• Connect to PC via USB Micro-B port; Built-in Bluetooth

• Supports Office 365

T58A-Skype for Business® Edition
• Optima HD voice

• 7" 1024 x 600 capacitive adjustable touch screen

• Yealink Noise Proof Technology

• Calendar, Skype for Business conferencing, CAP, Boss/Admin, Hot desking

• Built-in Bluetooth and Wi-Fi

• 2 USB 2.0 ports

• Dual-port Gigabit Ethernet, PoE support

• Supports expansion modules

• Supports Office 365, and upgradability of device applications to Teams or SFB
T56A-Skype for Business® Edition
• Optima HD voice

• 7" 1024 x 600 capacitive touch screen

• Yealink Noise Proof Technology

• Calendar, Skype for Business conferencing, CAP, Boss/Admin, Hot desking

• 1 USB 2.0 port for USB headsets, Bluetooth dongle and Wi-Fi dongle

• Dual-port Gigabit Ethernet, PoE support

• Supports expansion modules

• Supports Office 365, and upgradability of device applications to Teams or SfB
T55A-Skype for Business® Edition
• Optimal HD audio • 4.3" 480 x 272 capacitive touch screen

• Yealink Noise Proof Technology

• Calendar, Skype for Business conferencing, CAP, Boss/Admin, Hot desking

• 1 USB 2.0 port for USB headsets, Bluetooth dongle and Wi-Fi dongle

• Dual-port Gigabit Ethernet, PoE support

• Supports Office 365, and upgradability of device applications to Teams or SFB

• Wall mountable
SIP-T48S-Skype for Business® Edition
• Optima HD Audio

• 7" 800 x 480-pixel backlit touch screen, modern interface

• Calendar, Skype for Business conferencing, CAP, Boss/Admin, Hot desking

• Dual-port Gigabit Ethernet, PoE support

• Support expansion modules, Bluetooth

• Supports Office 365
SIP-T46S-Skype for Business® Edition
• Optima HD Voice

• 4.3" 480 x 272-pixel backlit color screen, modern interface

• Calendar, Skype for Business conferencing, CAP,Boss/Admin, Hot desking

• Dual-port Gigabit Ethernet, PoE support

• Support expansion modules, Bluetooth

• Supports Office 365
SIP-T42S-Skype for Business® Edition
• Optima HD Voice

• 2.7" 192 x 64-pixel backlit LCD

• Calendar, Skype for Business conferencing, CAP, Boss/Admin, Hot desking

• Dual-port Gigabit Ethernet, PoE support

• Supports headset • Wall-mountable

• Supports Office 365
SIP-T41S-Skype for Business® Edition
• Optima HD Voice

• 2.7" 192 x 64-pixel backlit LCD

• Calendar, Skype for Business conferencing, CAP, Boss/Admin, Hot desking

• Dual-port 10M/100M Ethernet, PoE support

• Supports headset

• Wall-mountable

• Supports Office 365
CP900-Skype for Business®
USB/Bluetooth speakerphone for huddle rooms and on-the-go

• Premium HD Voice for calls and music

• 6.5-foot (two-meter) 360-degree microphone pickup range

• Six-microphone beamforming array for full-duplex experience

• USB or Bluetooth connectivity for notebooks, smartphones and tablets

• Portable design
We recommend you to purchase the T5X/T4X/CP960 with pre-installed Skype for Business Edition. If the T5X/T4X/CP960 you have is of standard firmware version rather than a Skype for Business Edition, please download and upgrade to the Skype for Business Edition firmware, as well as apply and import the license.


OAuth & 3rd party app ID changes for all Yealink Skype for Business IP phones
Yealink announced the release of new firmware for all Yealink Skype for Business phones to apply OAuth 2.0 & 3rd party applications with greater security.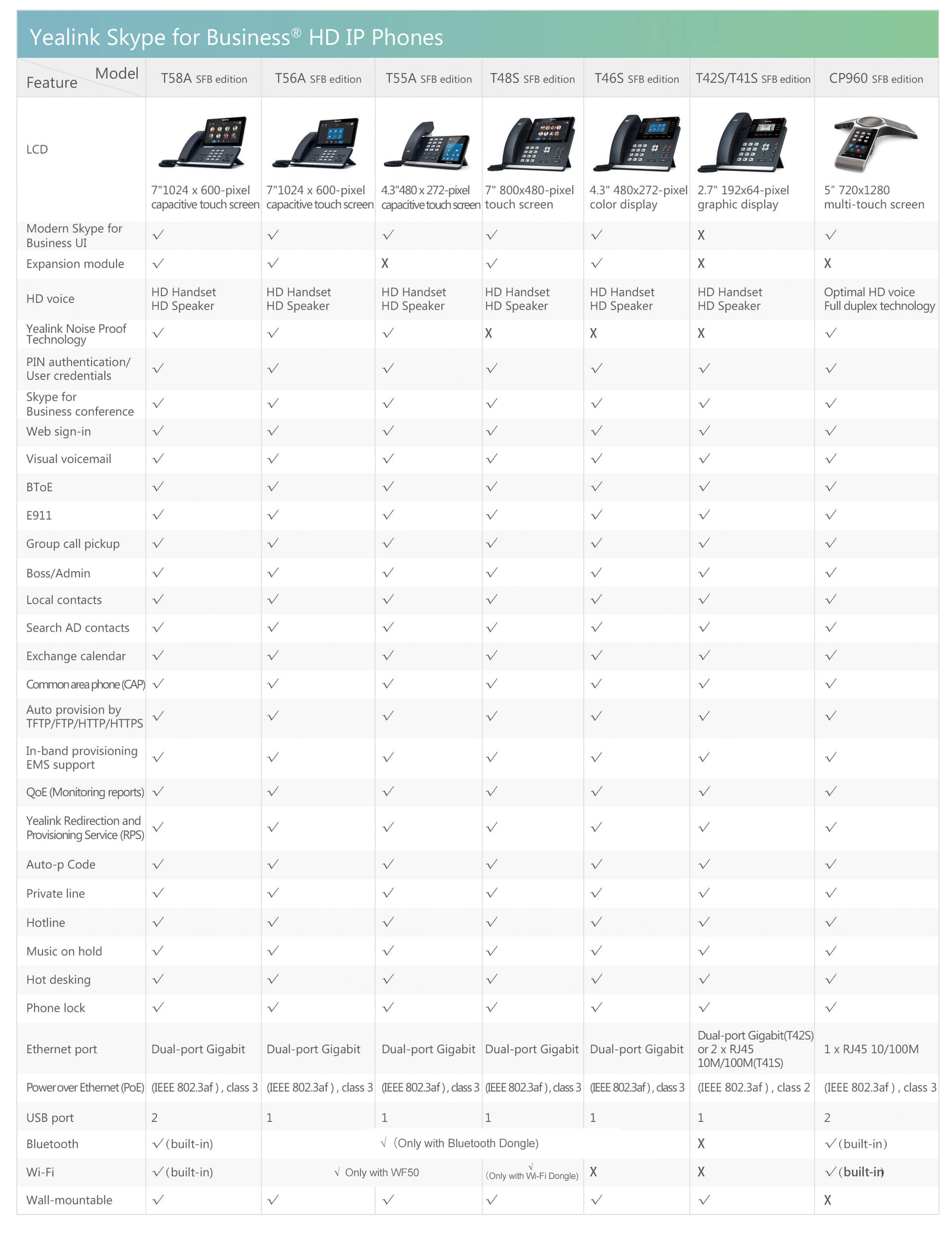 For more complete product documentation, click Here
EHS36

Compatible with Jabra, Plantronics, Sennheiser
Control phone through wireless headset
Plug and play
Easy to use
Datasheet Download

YHS33

Wideband audio for more natural sound and clearer conversations
Premium audio assures quality costomer communications
Ultra microphone noise cancelling
Ergonomic design for all day comfort
330° pivoting microphone boom
Featherweight and soft ear cushions are easy on your ears
Over-the-head, all-day comfortable design for intensive use
Plug and play
Datasheet Download

Yealink is tailored for the enterprise one-stop video conferencing solutions
As the world's leading provider of UC terminal solutions, the global TOP2 SIP telephone provider, Yilian company to provide enterprises with one-stop video conferencing solutions, flexible to meet the needs of small and medium enterprises self-built and cloud solutions to help SMEs enjoy high quality , Easy to use, easy to expand the efficient video communication collaboration.
* Filling in the application form gives you the chance to get a free trial;
* After receiving your application for trial, we will have someone to contact you, please keep the mobile phone unblocked;
* Since the number of free trial places is limited, we will follow the "first come, first served" policy and apply for a trial request. Please apply as soon as possible;
* The final interpretation of this activity is owned by Xiamen billion joint networking technology Limited by Share Ltd. If you have any questions, you can send it to sales3@yealink.com for consultation.