Diamond IP Conference Phone
Diamond IP Conference Phone
CP860 is the next generation IP conference phone launched by Yealink. An original diamond-section design makes the product look dazzling, while also providing enhanced display and pickup effect. The CP860 combines fashion able design with HD voice quality, superb pickup efficiency, five-party conferences, joint calls, meeting recording and playback and other multiple advantages. The result is that it brings a high-quality, multifunctional user experience to small and medium-sized meeting rooms.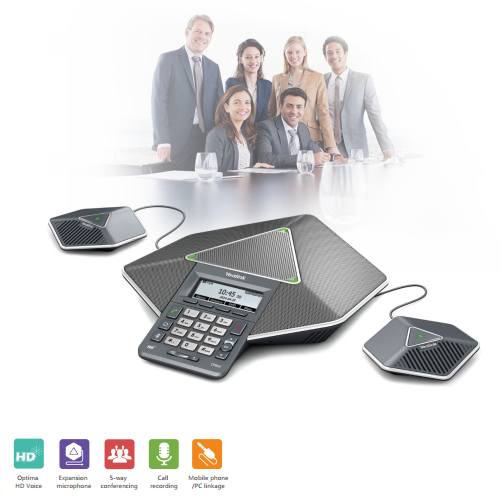 Designed with the crystal-clear lines of a perfect diamond
HD voice quality that matches a diamond's unblemished purity
● Support for Optima HD sound quality and authoritative TIA920 certification ensures all HD sound requirements.
● With a built-in three microphone matrix, the phone supports 360° omnidirectional high-quality sound pickup within a 3-meter radius.
Extended microphones can increase this to 5 meters— perfect for small and medium-sized conference rooms.
● With support for full-duplex, auto-echo cancellation and automatic reverberation elimination, the CP860 manages challenging audio environments.
The result is greater efficiency and more pleasant and productive meetings.
Multifunctional to reflect the all-round brilliance of a true gem-stone
● Support for call linkage with PC softphones (Skype, Lync, Bria, etc.), mobile phones and also for mixed communication terminals used in the same meeting.
This enables the phone to provide a unified communications experience at anytime, anywhere and on any devices.
● With support for 5-party conferences, the phone will greatly lower communication costs when a multiparty meeting is needed among a company's headquarters,
branch offices, vendors and customers.
● With support for meeting record and playback, the CP860 improves the efficiency and flexibility of meeting resource utilization and satisfies demands for filing.
Model
CP960-WirelessMic
CP960
CP920
PSTN CP920
CP860
Compare
Download
Datahsheet
Datasheet
Datasheet
General
Operating System
Android 5.1.1
Linux
Linux
DDR2 Memory
1GB
512MB
64MB
Flash Memory
8GB
128MB
128MB
Built-in PoE
IEEE 802.3af
IEEE 802.3af
IEEE 802.3af
Built-in Bluetooth
Bluetooth 4.0
Bluetooth 4.0
x
Built-in Wi-Fi
802.11a/b/g/n/ac
802.11b/g/n
x
User Interface
LCD
5" capacitive touch screen
3.1" graphical LCD
2.7" graphical LCD
Resolution
720 x 1280
248 x 120
192 x 64
LCD Backlight
√
√
√
Voice
HD Voice
√
√
√
Wide-band Codecs
G.722, G722.1C,Opus
G.722, G722.1C,Opus
G.722
Narrow-band Codecs
G.711(A/µ), G726, G729, G723, iLBC
G.711(A/µ), G726, G729, G723, iLBC
G.711 (A/µ), G.729AB, iLBC
Microphone Pickup
20ft
20ft
10ft
Built-in 3-microphone Array
3
3
3
Interface
USB Port (2.0 compliant)
2
1
1
USB 2.0 Micro-B Device Port
1
0
0
Ethernet Port
10/100Mbps
10/100Mbps
10/100Mbps
Wired MIC Port (RJ-9)
2
0
2
Wireless MIC
2
0
0
0
0
3.5 mm Jack
1
x
1
Security Slot
√
√
√
Features
Yealink Noise Proof Technology
√
√
x
Noise Suppression
√
√
√
USB Recording
√
√
√
Five-way Conference
√
√
√
Creat meeting directly
√
x
x
Active speaker
√
x
x
Hybrid UC Meeting
√
√
x
PSTN (via CPN10)
x
x
x
√
√
Star Conncetion
√
√
x
x
x
For more complete product documentation, click Here"
CPE80

Optima HD voice, full duplex technology
10-foot (3-meter) 120°voice pickup
Capacitive mute touchpad with bicolor LED
Echo cancellation
For use with Yealink CP860
Datasheet Download

CPN10

Support Yealink IP Conference Phone CP920/CP860
Plug and play
Easy to use
No additional power needed
USB call recording
Support up to 2 cascaded CPN10 to setup PSTN conference
Datasheet Download

Yealink is tailored for the enterprise one-stop video conferencing solutions
As the world's leading provider of UC terminal solutions, the global TOP2 SIP telephone provider, Yilian company to provide enterprises with one-stop video conferencing solutions, flexible to meet the needs of small and medium enterprises self-built and cloud solutions to help SMEs enjoy high quality , Easy to use, easy to expand the efficient video communication collaboration.
* Filling in the application form gives you the chance to get a free trial;
* After receiving your application for trial, we will have someone to contact you, please keep the mobile phone unblocked;
* Since the number of free trial places is limited, we will follow the "first come, first served" policy and apply for a trial request. Please apply as soon as possible;
* The final interpretation of this activity is owned by Xiamen billion joint networking technology Limited by Share Ltd. If you have any questions, you can send it to sales3@yealink.com for consultation.