W60P
The Yealink W60P Wireless DECT IP Phone is a premium phone designed with robust hardware, ideal for businesses that require greater capability to handle a heavy call load.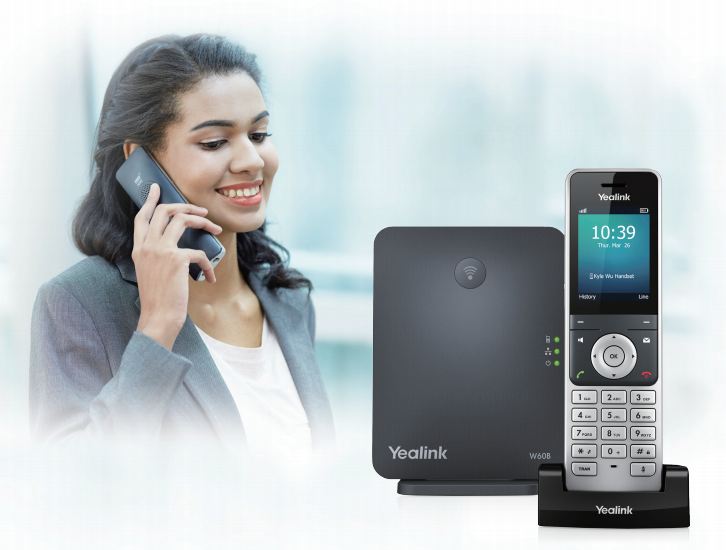 HD Audio Quality
Based on wireless CAT-iq2.0 DECT standard to offer premium and stable HD audio quality for efficient and clear communication
Long-life Battery
Installed with a Li-ion battery, ready for your heavy call load with 18 hours talk time, 240 hours standby timeand quick charging capability.
Rich Features
Enables quick user adoption and natural integration into the working environment with a thoughtful industry design, 2.4" 240x320 color display and rich telephony features.
Seamless compatibility with Yealink W60B DECT Base
• The Yealink W60B is a powerful scalable DECT Base that supports up to 8 handsets, 8 SIP accounts and 8 concurrent calls. Equipped with robust hardware and rich features, it perfectly caters to your busy small-to-medium-sized office.
• Compact as it is, the Yealink W60B DECT Base works seamlessly with the entire Yealink DECT handset range and repeater.
• It also supports efficient provisioning and mass deployment with the Yealink Redirection and Provisioning Service and Booth Mechanism as to realize zero touch provisioning.
Model
W60P
W56P
W52P
Compare
 
 
 
Download
Datasheet
Datasheet
Datasheet
Features
Standby Time
400h
400h
100h
Talk Time
30h
30h
10h
Battery
Lithium
Lithium
NiMH
Headset
3.5 mm
3.5 mm
2.5 mm
Indoor Range/Outdoor Range
50m/300m
50m/300m
50m/300m
Handset number of base
Up to 8 handsets
Up to 5 handsets
Up to 5 handsets
SIP Accounts
8
5
5
Simultaneous Voice Calls
8
4
4
Repeater
√
√
√
DECT standard
CAT-iq2.0
CAT-iq2.0
CAT-iq2.0
3-way Conferencing
√
√
√
Speed Dial
√
√
√
Display
LCD Display
2.4" 240 x 320 TFT colour display
2.4" 240 x 320 TFT colour display
1.8" 128 x 160 TFT colour display
LCD Backlight
√
√
√
Audio
Wide-band Codecs
Opus, AMR-WB (optional), G.722
G.722
G.722
Narrow-band Codecs
PCMU, PCMA, G.726, G.729, iLBC
G.711(A/µ), G.723, G.726,G.729, iLBC
G.711(A/µ), G.723, G.726,G.729, iLBC
HD Voice
√
√
√
Interface
Ethernet Interface
10/100M
10/100M
10/100M
POE
√
√
√
Bluetooth
x
x
x
Wall Mountable Base
√
√
√
For more complete product documentation, click Here"
RT30

Compatible with DECT CAT-iq 2.0
Compatible with Yealink W60B/W52 DECT IP Base Station
Up to 6 repeaters per base station
Star connection
Up to 2 repeaters can be arranged in cascade
Auto association
HD voice
Plug & play setup
Clear status LED display
Elegant Design
Wall Mountable
Datasheet Download

DD10K

Compatible with Yealink SIP- T41S/T42S with FW 66.82.0.35 or
later, SIP-T58A with FW V83 or later and SIP-T53/T53W/T54W/
T57W/VP59
Reliable Connection
Ease-of-use
Plug and Play
High Transmission Rate
Datasheet Download

RT20U

Compatible with DECT GAP
Compatible with Yealink W52P/W56P/W60P IP DECT Phone
Plug & play setup
Auto association
Star connection (max 5)
Clear status LED display
Slim Design
Wall Mountable
Datasheet Download

Yealink is tailored for the enterprise one-stop video conferencing solutions
As the world's leading provider of UC terminal solutions, the global TOP2 SIP telephone provider, Yilian company to provide enterprises with one-stop video conferencing solutions, flexible to meet the needs of small and medium enterprises self-built and cloud solutions to help SMEs enjoy high quality , Easy to use, easy to expand the efficient video communication collaboration.
* Filling in the application form gives you the chance to get a free trial;
* After receiving your application for trial, we will have someone to contact you, please keep the mobile phone unblocked;
* Since the number of free trial places is limited, we will follow the "first come, first served" policy and apply for a trial request. Please apply as soon as possible;
* The final interpretation of this activity is owned by Xiamen billion joint networking technology Limited by Share Ltd. If you have any questions, you can send it to sales3@yealink.com for consultation.