with MVC940 with AVHub Bundle Solution
Designed for extra-large meeting rooms, the Yealink MVC940 with AVHub Microsoft Teams Room system is a bundle video solution with
UVC84 multi-camera system, MCore mini-PC, MTouch II touch panel and AVHub, bringing everything you need to interact,
connect, and collaborate with internal and external users seamlessly and intelligently.
4K Performance
Capture All Movements
Featured 4K sensor and 12x optical zoom, the UVC84 camera achieves a gorgeous video experience perfectly for medium and large rooms.
The Auto Framing enables the UVC84 to recognize attendees and frame everyone automatically in the most appropriate view in rooms of any size.
The auto-privacy protection design secures the safety of your meetings.
Multi-Camera Solution,
Customized Layout in Any Meeting
With the AVHub in the bundle, the MVC940 system allows users to enable multiple cameras simultaneously from a single room, better capturing participants and providing different views of the rooms. Moreover, the users can choose different tracking modes for each camera. In the meantime, remote attendees can view the video feeds of all enabled room cameras in a customized layout, contributing to more industrial scenario applications. Paired with Yealink BYOD Extender, the MVC940 with AVHub enables multi-camera control even in third-party meetings.
Yealink MVC940 with AVHub brings more flexibility to the audio solutions. Users can choose any Yealink voice devices for Microsoft Teams including Yealink VCM34 microphone, VCM38 ceiling microphone, and the MSpeaker II or audio solution from the mainstream third-party providers including Shure, Biamp, etc. for particular needs.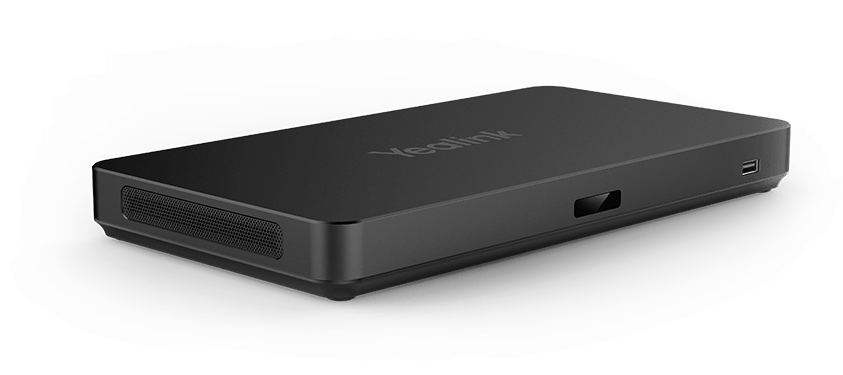 AI-Enabled Chipset,
Infinite Possibilities for Future Applications
Yealink AVHub can be used with multiple UVC84s to provide a multi-camera solution with the feature of the camera. Equipped with a powerful AI-enabled chipset, AVHub empowers the new MVC940 with AVHub bundle great scalability in future applications including together mode in Microsoft Teams. The AVHub enables direct audio and video processing, reducing the operational burden of Mcore.
Multi-mounting Options
Simplified Connections
The MCore mini-PC can be set up according to a particular room layout. Mounting on the wall, sticking to the table can be realized. Also, in all Yealink MVC room systems, the MCore cable management solution integrates data and power supply into one CAT5e cable, simplifying the complicated connections and reducing the deployment time.
Users can enjoy plugging in the Yealink WPP20 with one click to share the screen wirelessly, or connecting the laptop to the meeting through the USB-C or HDMI port easily. In the Yealink MVC II room system, all participants have the flexibility of choosing either wireless or wired ways of content sharing.
Yealink MVC series video solution supports the Yealink Device Management Platform/Cloud Service. You can manage, monitor, configure, update and diagnose all Yealink audio and video devices and peripherals on this platform remotely
Yealink MVC940 with AVHub Specifications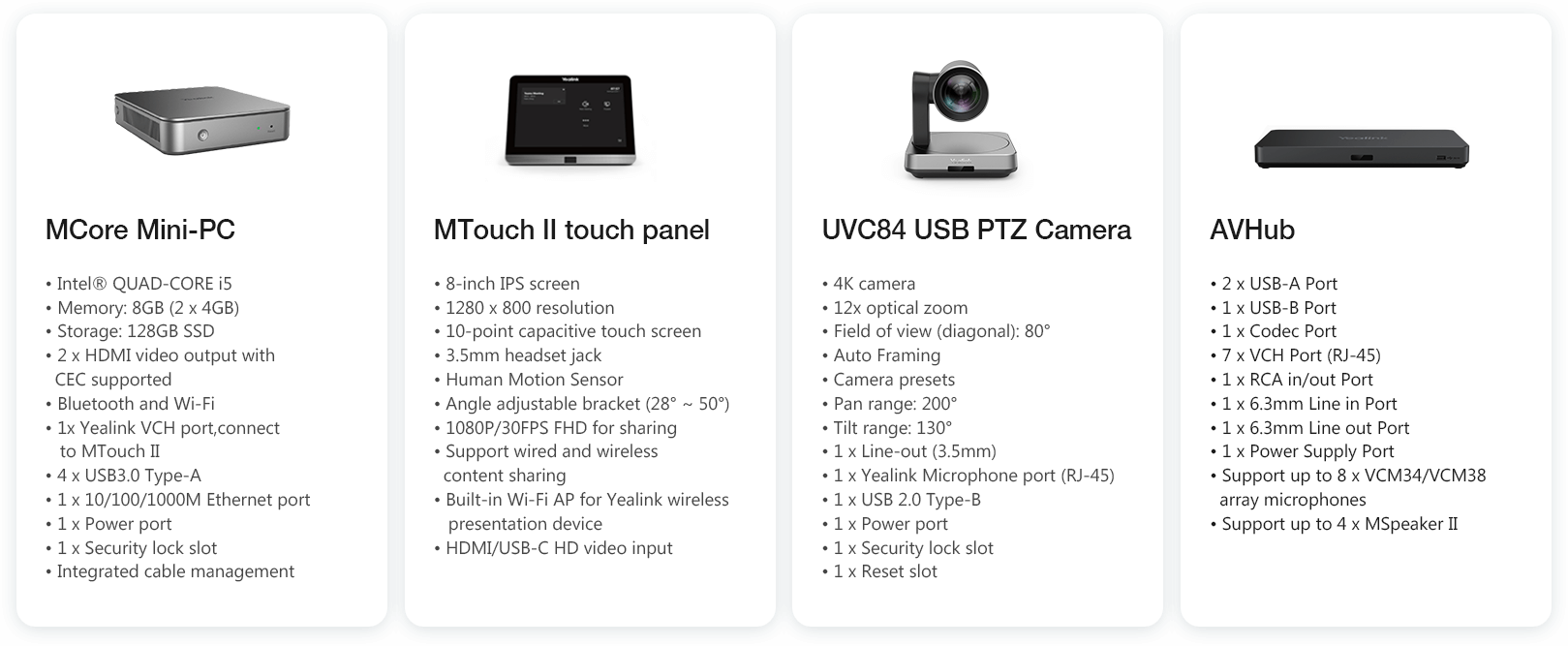 If you need assistance or have questions, please contact one of Yealink's Microsoft experts here.