SIMPLE TO SET UP A DEDICATED ROOM
Designed with simplicity, Yealink MeetingBar A20 for Zoom integrates the camera, microphone and speakers into an all-in-one system. No PC or individual components are required, allowing plug-and-play for a dedicated small meeting room setup within minutes, greatly reducing the time needed for deployment and management. In addition, connecting to a CTP18 touch panel can be realized for better meeting control.
A20 CAMERA

ONLY DUAL-CAMERA CAN
Yealink MeetingBar A20 is designed for small rooms. It features a 20-megapixel sensor and 120° field of view, which ensure an ultra-clear and ultra-wide view even in small conference room.

Auto Framing
Auto Framing recognizes the number and the positions of attendees, framing everyone smoothly in the most appropriate view even in small conference room.
Speaker Tracking
Speaker Tracking frames a real-time close-up on the presenter, bringing a vivid face-to-face meeting experience and ensuring attendees are well-engaged.
Picture-in-Picture
Picture-in-Picture tracks and frames the speaker in an individual window, which is separate from the other window, for a panoramic view, enabling users to keep an eye on who's talking even if the speaker is seated at a distance in a medium room.
Multi-Focus Framing
Multi-Focus Framing mode not only recognizes all attendees and frames each participant, but also turns equal windows of multiple persons into a recombined meeting view, solving the problem of distractions due to an unclear background.
Smart Gallery
Smart Gallery follows the active speakers and makes sure everyone can be seen clearly and feel included, providing better support for remote collaboration.
IMMERSIVE VOICE
IN EVERY CORNER
The built-in 8 MEMS microphone arrays and speaker in Yealink MeetingBar, completely cover up to 6-meter medium-sized spaces. As the MeetingBar is equipped with a powerful independent audio processing unit, you can enjoy a worry-free, full-duplex voice experience with superior performance.
AI-BASED VOICE
CLEANS UP ALL THE NOISE
Yealink enhanced AI noise cancellation makes the audio experience more brilliant. Leveraging a massive deep-learning sound database to reduce background noises, it is more about intelligent audio analysis than standard filtering of audio frequencies. The distracting keyboard clatter, mouse clicks, footsteps, and other ambient noises are smartly pared back, ensuring that users enjoy crystal-clear audio quality.
One Step Towards Wireless Meeting
The WPP30 creates a wireless meeting experience with the yealink device. Once connected, it immediately gets you ready for wireless content sharing and device mode withour any configuration steps.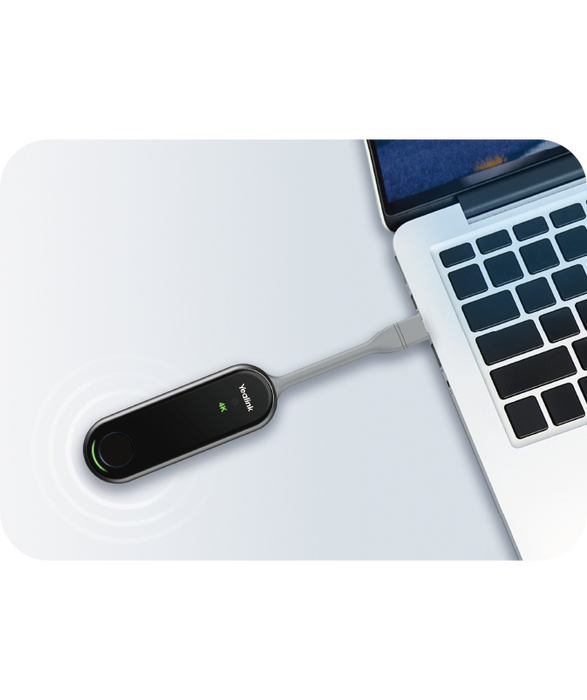 Content Camera allows for a real-time collaboration in Zoom Rooms Appliance. With a length-adjustable wall mount bracket, Yealink UVC 30 Content Camera is flexible to suit different whiteboard sizes. One click envolves existing traditional whiteboard in Zoom meeting.
LEADNG VIDEO PLATFORMS
WITHIN YOUR CHOICE
Yealink MeetingBar supports diverse video platform experiences. No matter which platform you use, start your meeting right now!
ONE-STOP FOR YOUR HYBRID WORKPLACE NEEDS
Please fill in the information below, or email us at zoominfo@yealink.com, and a Yealink expert for Zoom solution will contact you soon.