A DEVICE ADDED, AN EXPERIENCE ENHANCED
Why Do You Need a Headset?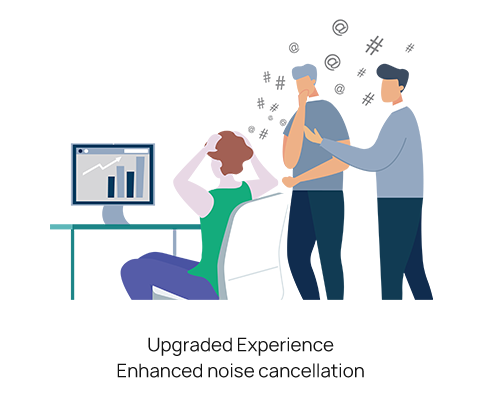 WH62/63+ EHS60/EHS61 THIRD- PARTY PHONES SOLUTIONS
Redefine Your Desktop Phones Experience
COMPLETE SOLUTION
FOR LEADING PHONE BRANDS
Yealink WH62/63 Headsets & EHS adapter is seamlessly compatible with third-party phones of Cisco, Avaya, Poly, Mitel, Unify, and Fanvil. Features like answer/reject/adjust the volume are all supported with hands-free operation, boosting daily productivity.
*Mute feature is only available for Cisco phones now
Three cables will be provided with EHS60/61 to match different third-party phones. There is no need for the resellers to prepare several solutions and inventory with less cost of storage and management. The end-users don't have to figure out the package available for their phone, which is convenient to purchase.
ACOUSTIC SHIELD TECH

PIONEERING NOISE CANCELLATION
With Yealink Acoustic Shield technology, the conference headsets could filter out background noise by 2x microphones while you are on a call, providing HD voice quality for your listeners and ensuring distraction-free conversation.
STAY FOCUSED
ENHANCE PRODUCTIVITY
You are providing a visual cue and indicator that help to reduce distractions and eliminate interruptions, which promises your ideal productivity.

* External Busylight(BLT60) available as an optional accessory
WIRELESS FREEDOM
ALL DAY POWER
The conference headsets can always catch up on your steps no matter when and where your conversation begins. With up to 160m wireless range and 14 hours of talk time, it is suitable for users' daily communication needs. In addition, the product supports high-density installation in the open office, which allows up to 200 users (Europe) to enjoy wireless communication at the same time.
GREAT COMFORT
ALL-DAY WEARING
To meet the various preferences of users, Yealink created the lightweight designed headset(include Microsoft Teams headset) with an adjustable headband, replaceable ear cushions, and two wearing styles, namely mono and dual options to ensure all-day comfort.
THE COMPATIBILITY WITH PHONE MODELS
Get the best solution for your organization and specific use case. Our experts can advise on products, compatibility, and UC deployments.

Apply for a free trial
We offer free headsets for companies of 500+ employees, who are replacing their current headsets like Microsoft Teams headset or have a new project. T&Cs apply.